Towards the end of January, Dogelon Mars [ELON], the 119th ranked crypto, was at its multi-week rock bottom. After briefly consolidating, ELON started inching back towards its monthly highs in February. Nevertheless, with the bearishness intensifying over the past week, this token's recovery path had been hindered.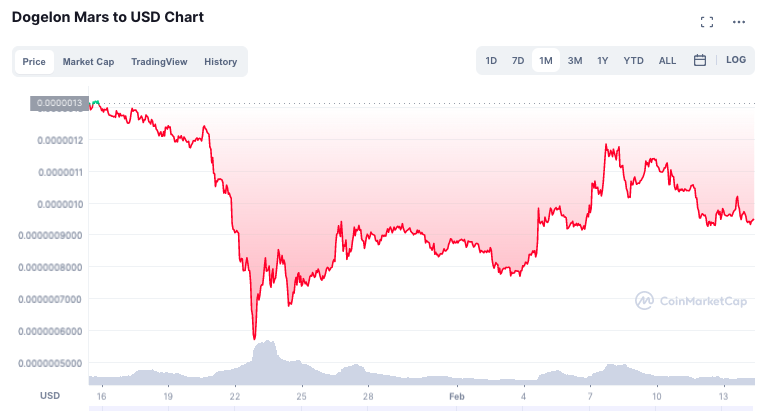 After fetching a negative RoI of 10% over the past week, Dogelon Mars has been revolving around $0.00000094 of late. Given the fractured state of the broader market, the chances of ELON posing an immediate recovery seem to be quite slim at the moment.
Passive income to Dogelon HODLers' rescue
Despite the disappointing outlook on the price front, there's something for ELON HODLers to cheer about. A couple of days back, Dogelon Mars went live on the decentralized payment network – Fuse.
Elaborating on the collaboration, Fuse's official blog post highlighted,
"Fuse Network becomes only the fourth EVM chain on which the token has officially been enabled (in addition to Ethereum and Polygon)."
A FUSE/ELON trading pool has been created on the Voltage Finance (formerly FuseFi) decentralized exchange and the initial liquidity has already been deposited to help kickstart trading.
To further incentivize the liquidity provision, a boosted vault has also been created for the pool on Beefy Finance. As such, Beefy is a major multi-chain yield optimizer protocol that was recently deployed to Fuse Network.
Fuse's blogpost further brought to light,
"Those liquidity providers on the FUSE/ELON pool who will deposit their Voltage LP tokens to the Beefy vault for the pool will have their liquidity positions boosted with $92,000 worth of FUSE and ELON in total at current prices. The boost will be in the form of Voltage LP tokens for the FUSE/ELON pool distributed during 90 days."
Plans are also in motion to later whitelist ELON on the Fuse Cash consumer-facing wallet, which will give users exposure to the said asset.
The yield farming program on the ELON/FUSE pool on Voltage Finance and the LP token boost, together, represent an attractive passive income stream for the Dogelon community. Thus, even amidst dwindling prices, ELON HODLers have quite a good opportunity to continue fetching returns.