Shiba Inu failed to register significant gains in 2021. It traded sideways during Q1 of last year only to dramatically head south for the rest of the year. The dog-themed token attracted new whales and retail investors but failed to sustainably scale up in the indices. In this article, we will highlight how many 'zeroes' Shiba Inu deleted between February 2022 to 2023.
Also Read: Exclusive: 'Here's What I'll Do When Shiba Inu Reaches $0.01′
Shiba Inu: Here's How Many 'Zeroes' It Deleted From February 2022 to 2023
To keep it straightforward, Shiba Inu did not delete a 'zero' between February 2022 to 2023. SHIB was trading with four 'zeroes' in the indices for the first three quarters of 2022 but added an extra 'zero' in November after the FTX-induced market crash.
Shiba Inu was trading with five 'zeroes' during Q4 of 2022 but managed to delete a 'zero' in January this year. This brings SHIB back to the same four 'zeroes' from February 2022 to 2023.
Also Read: 'Buy Shiba Inu', Says Early Bitcoin Investor Davinci Jeremie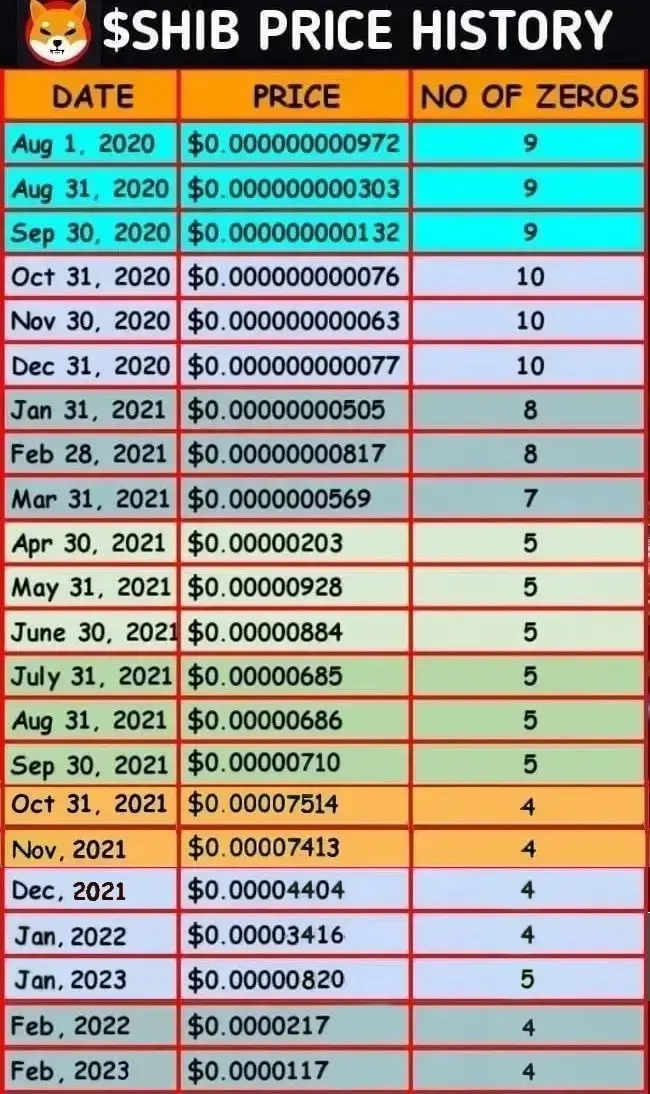 The dog-themed token is finding it hard to remove 'zeroes' as it did in 2021 during the bull run. Investors are left with a bag full of tokens in the hopes of it reaching $0.01. However, the 1 cent dream seems to be distant and could take longer to reach the milestone.
The circulating supply of 549 trillion tokens is what's keeping it from sustainably scaling up. However, if Shibarium initiated large-scale burns, there could be light at the end of the tunnel for SHIB.
Also Read: Shytoshi Is Right, People Will Not Celebrate When Shibarium Launches
At press time, the asset was trading at 0.0000117 and is up 0.6% in the 24 hours day trade. SHIB is down 86.3% from its all-time high of $0.00008616, which it reached in October 2021.