It's a known fact that MicroStrategy's founder, Michael Saylor, is a Bitcoin proponent. With over 130k BTC, the Business Intelligence firm is currently the largest Bitcoin institutional investor. Interestingly, the company has bought BTC during—both—the bullish and bearish phases of the market.
What if MicroStrategy invested in Ethereum instead of Bitcoin?
The Blockchain Center has a dashboard comparing MicroStrategy's 'actual' and 'what if' crypto investments. Per data from the same, its current 130k BTC HODLings is currently worth $ 2.679 billion. However, if it had invested in Ethereum, the firm would be owning around 3.5 million tokens worth $5.596 billion. Resultantly, instead of being down by $1.304 billion USD, MSTR would be up by $1.614 billion with ETH.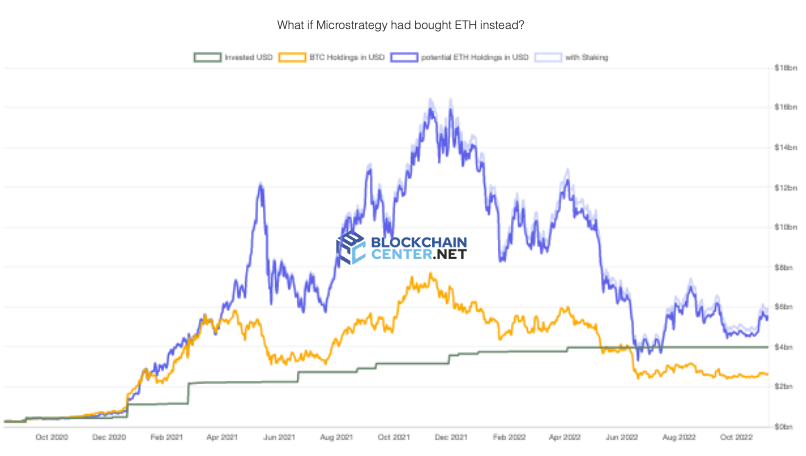 Alongside, the company could have staked ETH to earn an additional 240K tokens by now worth $370 million. In fact, if Saylor traded his BTC stash for ETH now and stakes, he still can have 1.7 million ETH and earn $134 million a year from staking. Per Blockchain Centre, MicroStrategy has never had this much-operating income.

Conventionally, investors avoid putting all eggs in one basket and choose to diversify their assets to manage risk better. However, Saylor has never really been a fan of the said theory. Commenting on his school of thought w.r.t. diversification, the MicroStrategy exec said last November,
"When you build a building and you're standing out on a steel beam, you don't diversify the steel beam. Steel is metallic energy, it's a higher form of metallic energy than iron, which is a higher form of metallic energy than bronze…If someone came and said, 'Let's diversify the skyscraper with some balsa wood and some clay and some bronze so we'll be safe", you would scream at them."
In fact, he has also stated several times in the past that there's no second-best cryptocurrency. Well, per the afore-highlighted data, MicroStrategy would be in a better off position if it chose to divert funds towards Ethereum.
Having said that, it doesn't mean that MicroStrategy's decision to invest in Bitcoin was unreasonable. Despite the choppy past 12 months, the largest crypto asset has been delivering on the macro front. In the words of the creator of the dashboard,
"Of course, hindsight is 20/20, and his decision to convert his company cash (and more) into Bitcoin could have been (and still can be) the greatest decision ever. But saying "there is no second best crypto asset" is a bit of a stretch if you ask me and the data that is currently available."