On the news of yesterday's Bellatrix upgrade date announcement, Ethereum started inclining on the price front. On Thursday, the global crypto market cap was up 1.3% and stood at $1.05 trillion at press time. However, not many altcoins followed ETH's path. Cardano, for instance, has been hovering around $0.46 over the past day, with a little incline of 0.5% in the past 24 hours.
Time for Cardano to go higher?
Per data analytics platform Santiment, the 30-day trading returns continue to point to "mid-term losses" for the average portfolio. As illustrated below, Cardano's MVRV ratio has been revolving in negative territory over the past week.
This ratio, as such, gauges an asset's market capitalization relative to its realized capitalization. As a result, it helps assess market profitability and gives a sense of when the asset's price is above or below the fair value.
Thus, the current reading points out that Cardano investors are at a loss. The same is not worrisome because, during such conditions, long-term HODLers usually tend to accumulate. After all, the risk of a sell-off is shallow.
Compared to other assets like Bitcoin, BNB, and Ethereum, Cardano's MVRV is currently the lowest [purple]. The same gives the purchase an extra edge over its peers because, per the rule of thumb, the further into negative territory an asset's MVRV is, the lower the risk of further downside.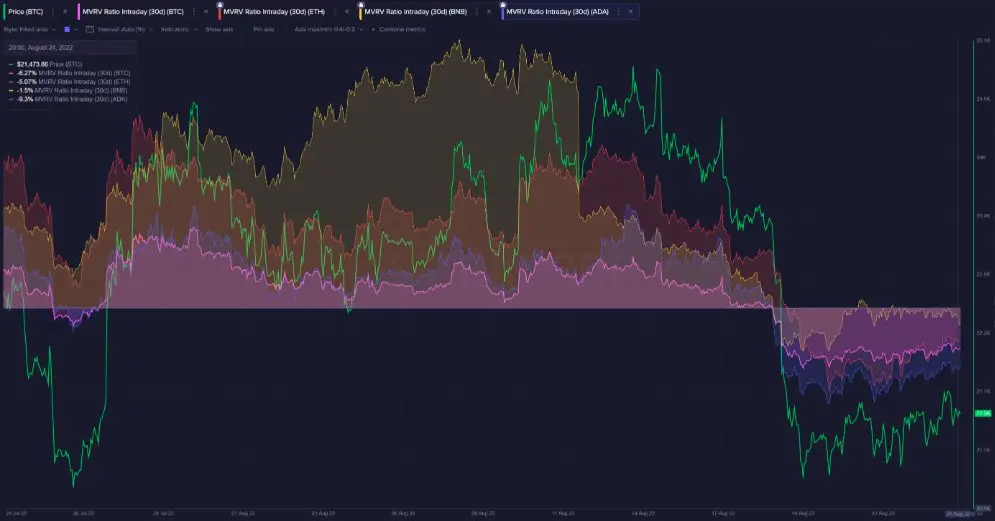 Further, ITB's data showed that the accumulation trend was already in play. Over the past 6 hours, the buy trades exceed the sell ones by 5.5 million ADA tokens. So, if the buy-spree extends itself, ADA can rally all the way upto $0.64 over the mid-term.

ADA will, however, be put to the test around its 50 and 100 MAs at $0.49 and $0.5. If it manages to rally past them, it'd have to clear another resistance around $0.57 before finally climbing to $0.64. As Cardano's Vasil hard fork and Ethereum's Merge nears, the broader sentiment is expected to flip to positive. Thus, ADA can be expected to negate its losses in the coming days gradually.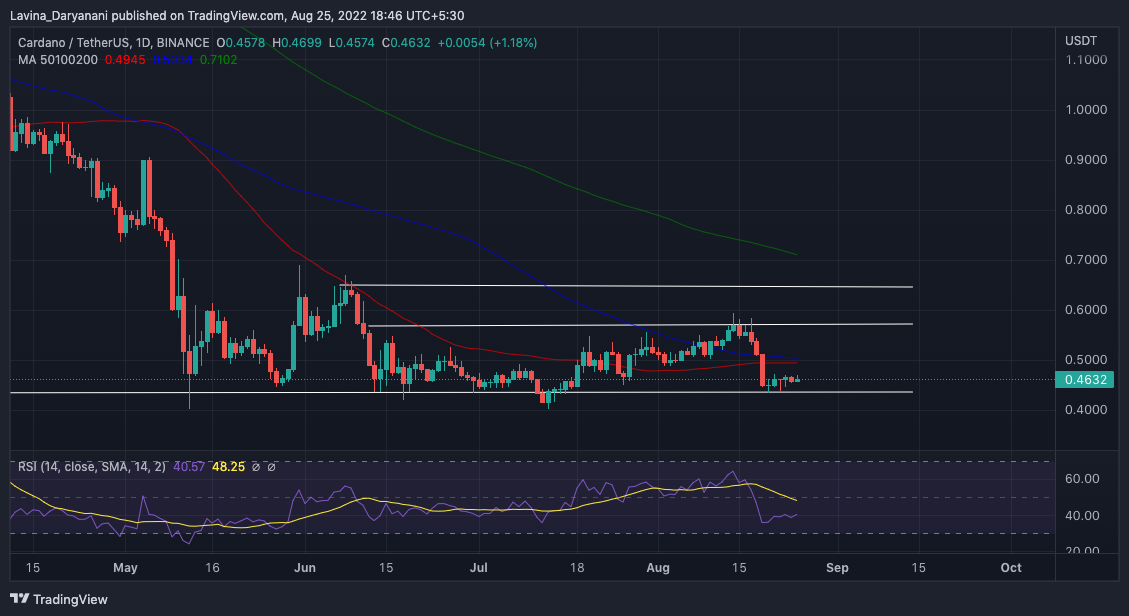 However, over the subsequent few trading sessions, if top coins start shedding value, then ADA will likely follow suit because it shares a high correlation with them. In such an event, $0.43 and $0.40 will come into play.