Impact XP spiked +576.6% over the last 14 days and the token is up +255.9% in the last 30-trading days. IMPACTXP delivered phenomenal returns to early investors in a short span of time making it a prime investment.
The token is also pressing the right buttons on social media by attracting a larger base of investors. Several influencers are seen promoting Impact XP and urging investors to get in early or miss out on the bull run.
Crypto and stock market analyst Del Crxpto is bullish on Impact XP and so is crypto influencer Jake Gagain. Del Crxpto has given the 'buy' signal to IMPACTXP predicting that it could "execute big plans" in the future.
Investors who feel they missed out on Doge, SHIB, and SafeMoon's 'larger than life returns', are going all-in on Impact XP. They believe and hope the token can showcase similar performance to top meme-tokens and quench their financial aspirations.
How High Can Impact XP Go From Here?
Impact XP was launched on November 24, 2021, and is an ERC-20 token on the Ethereum network. The token has a supply of 1 quintillion and the team claims to have burned 50% at launch.
Despite being new to the crypto market, Impact XP has been listed on four exchanges including centralized and decentralized platforms. Centralized exchanges such as LBank, HotBit, and XT.com have got IMPACTXP on board and it is available for trading. Decentralized platform UniSwap is the only exchange to have listed the token at the moment.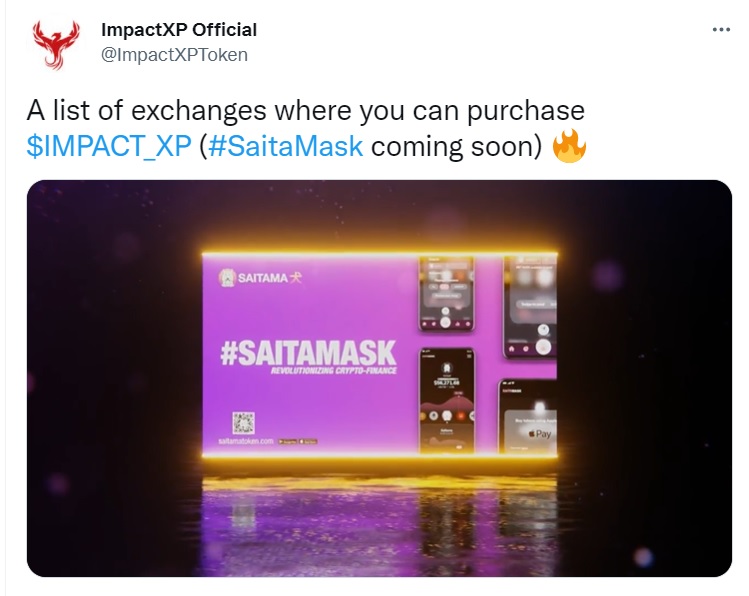 However, Impact XP is expected to shoot up in price as SaitaMask confirmed it would list the token during launch. SaitaMask is expected to be released on January 7, 2022, and give IMPACTXP a larger platform with its listing. Saitama is one of the most talked-about meme-token in the market and SaitaMask can get millions of downloads.
The influx of new investors into Impact XP through SaitaMask can propel its price to another new high. The token reached an all-time high of $0.000000000344 on December 30, 2021, and is now down -17.7% from its ATH. A SaitaMask listing could make it breach its ATH and sit at a new high comfortably in the coming week.
At the time of publishing, Impact XP was trading at $0.000000000272 and is up +6.1% in the 24-hours day trade.