New meme coins have been entering the crypto ecosystem on a daily basis. While most of them are shunned as scams, a few others manage to garner popularity. Similarly, PEPE made quite some noise over the last couple of weeks. The asset witnessed tremendous growth and even generated some millionaires. But now, it seems like the focus is shifting from PEPE to another meme coin.
Earlier today, Milady Meme Coin [LADYS] was seen creating an uproar after Twitter's CEO Elon Musk decided to share a tweet. Musk's tweet entailed an image from the Milady NFT collection. Soon after, the floor price of these NFTs surged from 3.8 ETH all the way to 7.3 ETH.
In addition, a token titled the same began soaring. Earlier today, CoinGecko took to Twitter to notify the community that the meme coin was up by over 11,000%. At press time, LADYS was trading for $0.000000115722 with a 3,810% daily surge.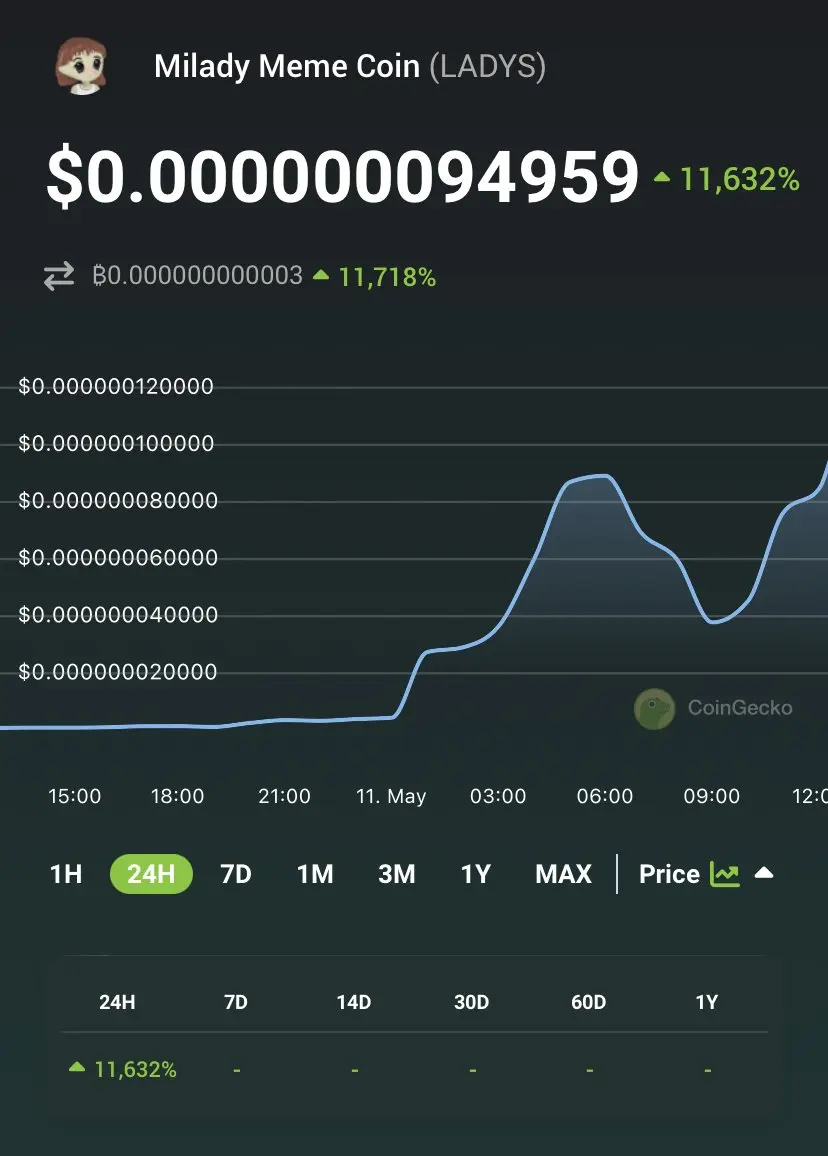 Blockchain sleuth, Lookonchain found major transitions occurring amidst this price rise.
PEPE out? LADYS in?
According to data from Lookonchain, a significant amount of PEPE was swapped for LADYS. One address, in particular, purchased 292 billion PEPE with 54 [ETH] valued at $101,000 at the time. Later on, the same individual sold their PEPE holdings for 288 ETH, which is worth about $532,000, resulting in a profit of around $430,000.
This wasn't all. The same address that had bought a large amount of PEPE also invested heavily in LADYS. The address purchased 7.5 trillion LADYS tokens, which were worth around $1.18 million at the time.
While the rise of the LADYS meme coin seems to have brought great benefits to its investors and creators, it is unclear whether there is any actual connection between Musk and the coin. Regardless, the sudden surge in popularity and value of LADYS serves as another reminder of the nature of the cryptocurrency market and the potential for abrupt gains or losses.