The pursuit of the $1 milestone by XRP marks a significant achievement for its enthusiastic community. As XRP continues to gain momentum and exhibit its resilience, the aspiration of reaching $1 becomes increasingly tangible.
The path to achieving this milestone, however, depends on external influences. One significant factor is the ongoing legal case between Ripple and the Securities and Exchange Commission [SEC], which holds substantial sway. Positive outcomes in this case have the potential to serve as a catalyst, propelling the price of XRP upward. Conversely, negative developments in the case could have an adverse effect, hampering the progress toward the milestone.
Also Read: Ripple v. SEC: Law Veteran's Perspective on Unlikelihood of a Settlement
Furthermore, a decrease in the available supply of a specific cryptocurrency has demonstrated its ability to drive up the value of that particular asset. Recent reports from a Twitter account have disclosed a substantial reduction in the total supply of XRP over the past 30 days. Approximately 247,016 XRP tokens have been permanently eliminated and taken out of circulation during this timeframe, at an average daily rate of around 8,233 tokens.
However, a senior staff software engineer at Ripple has provided clarification. He stated that the reduction in XRP's total supply is primarily attributed to the deletion of accounts on the XRP Ledger.
The substantial token burn and its potential effects on the value of XRP have generated varying opinions. Some believe that the significant reduction in supply could influence the token's value. However, a few others view it positively, considering it a sign of network optimization.
Will minimal network activity act as a barricade for XRP?
The network activity of XRP has experienced a significant decrease after a rally in late June. Since last month, the transaction volume of XRP has declined by 15.86%. Presently, the total transaction volume in the network stands at $623 million.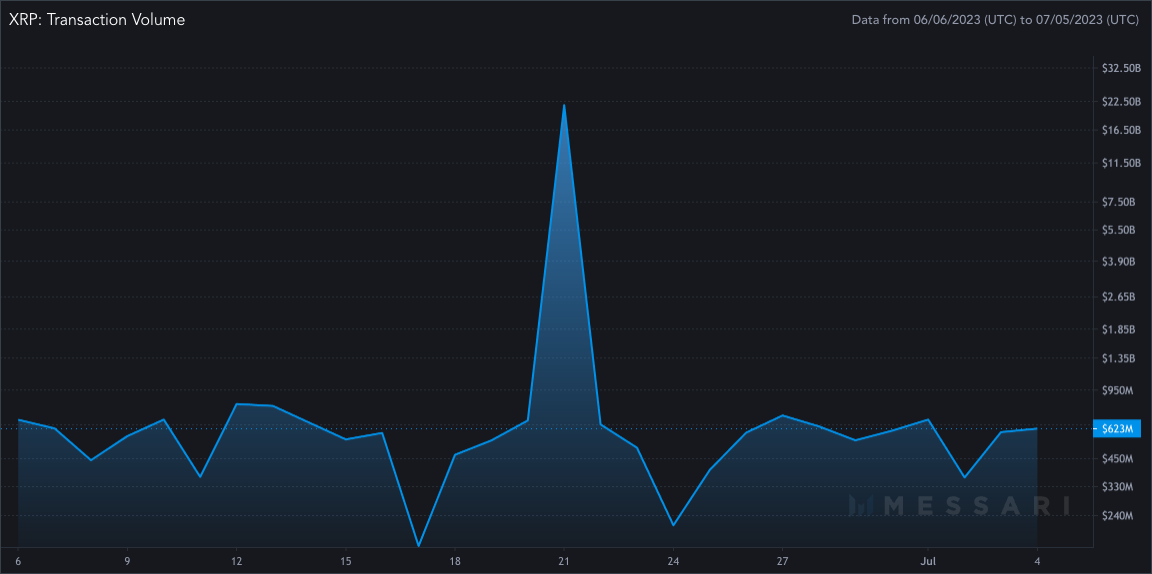 Furthermore, there has been a decrease in the number of active addresses as well. The network witnessed a decline of 84.51% in active addresses over the past seven days. At present, the total count of active addresses in the network stands at 24,363. Network activity plays a significant role in driving the price of any token.
Moreover, according to CoinCodex, a crypto tracking platform utilizing a self-learning machine algorithm, XRP is projected to be valued at $0.58 on Dec. 31, 2023. At press time, the asset is being traded at $0.4775, reflecting a 2.20% daily decline. This suggested a potential rise of approximately 20% from the current price of XRP.
Also Read: Ripple Whales Acquire 360 Million XRP Amid Price Drop