Quite recently, Binance was in the news when rumors about the exchange losing 90% of its customers started doing the rounds. Per the exchange's CEO, Changpeng Zhao, media outlets had misquoted one of the exchange's compliance officers, Tigran Gambaryan. Notably, the said development had its roots linked to implementing KYC norms.
Read More: Binance's CZ denies claims of losing 90% users following KYC
Of late, again, there's another speculation that's gaining steam. People from the community have started conjecturing that Binance is losing its customers and say in the Russian market. So, does that assertion hold water? Well, there's not a straightforward answer to the said question. Before analyzing the current situation and commenting on it, let us rewind a little.
How does Binance fare in Russia in March-April?
Back in the day, when the Russia-Ukraine war landscape was heated, the US, EU, and other allies had imposed unprecedented sanctions, froze Russia's foreign currency reserves, and halted international payments from Russian banks as a sign of protest. Resultantly, crypto has become the go-to asset.
A recent Forbes article highlighted how individuals relied on exchanges like Binance's P2P services to make cross-border transactions. The report outlined,
"Russian traffic to crypto exchanges skyrocketed in the early days of the Ukraine invasion, as Russians traded billions of dollars worth of rubles for bitcoin and tether in March and April."
Around the same time, US policymakers had voiced their concerns regarding how the Russian government and sanctioned corporate entities and individuals were using cryptos to circumvent western sanctions. However, ruble diversions into Bitcoin and stablecoins like USDT continued, and the volumes spiked.
Now, it's a known fact that in terms of volumes settled daily, Binance leads the exchange list. Per data from CoinGecko, Binance's 24-hour global trade volume stood at $13.2 billion. Coinbase, which stood next on the list, had only been able to foster transactions worth $1.8 billion in the same period.
Leaving aside global standings, the Forbes report highlighted that Binance had dominated the crypto exchange space in Russia for years. Nevertheless,
"… competition increased dramatically after the war's start, and Binance has watched its market lead shrink."
Per Forbes' analysis, in August 2021, Binance controlled 62% of Russian traffic to crypto exchanges. That fell to 33% just before the invasion, rose to 44% in March, and has since declined to a record low of 27%.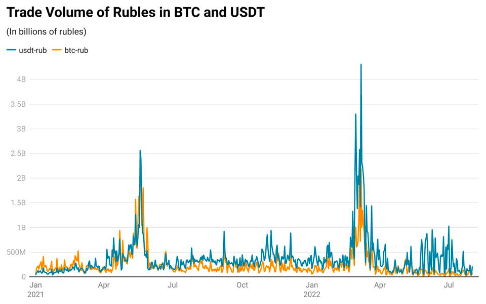 The big picture
Even so, Clara Medalie, director of research at digital assets data provider Kaiko, revealed that Binance continues to maintain its numero uno position.
"Binance is No. 1, but then there's a bunch of these really tiny exchanges that likely only have very limited volumes."
On Aug. 2, Tether/ruble trade volume surpassed $2.14 million on Binance. BitGlobal, which stood next, had hardly been able to exceed $400,000, justifying the said narrative.
Alongside, it wouldn't be fair to turn a blind eye toward the macro picture. So, it's worth noting that the trade volume between Tether and the ruble peaked in early March. As depicted in the chart above, it hit 4.3 billion rubles on 7 March. The same day, Bitcoin/ruble volume was hovering around 2.1 billion. Post peaking, the books have drastically dropped, indicating that the collective participation of Russians in the crypto market has been on the decline.
Quite evidently, the size of Russia's crypto playing field has been shrinking, and as a result, Binance has been losing customers. Put in the words of Forbes,
"As Binance's share of the Russian pie is shrinking, the size of that pie is also diminishing."
However, the exchange continues to assert its dominance in the Russian crypto market, for it single-handedly controls the most significant chunk of traffic. As highlighted earlier, the 33%-44% rise during the pre-invasion and invasion phase brings to light that Binance capitalized on the whole war situation.
Because strict responses by payment providers and sanctions are still in play, Russia has become a tough market, making crypto purchases difficult. However, per Forbes, the territory is still in a commanding position.
"Volume has slipped in recent months, but Russia remains a major market for any crypto exchange."
So, even though customers have been bidding farewell to the exchange of late, the situation might improve as the market recovers. And with Binance already having an extra edge over other exchanges, it would perhaps be in a position to reap the most benefit.
Binance's BNB reaches a new high against Bitcoin
In another recent development, Binance's native BNB token attained a new high against Bitcoin. At press time, it was trading around 1300 satoshis, bringing to light how the exchange's native token has been able to fare better than Bitcoin amid the ongoing market instability.

Also Read: Binance's CZ Files a Defamation Lawsuit Against Bloomberg