Bitcoin Gold(BTG) has the potential to reach higher levels than it is today. However, the big question is, is it still a good investment to recommend to investors and traders?
In this article, we will be looking at a few things that might make BTG an investment to consider in 2021 and especially in this season when altcoins are preparing for a bull run.
Bitcoin Gold In Comparison to Bitcoin
The main aim of Bitcoin Gold is to give its miners a chance to mine electronically through GPUs and ASICs. These methods provide the miners with a few advantages, such as broad capitalization. When it hit the market, BTG was worth around $400 with no ICO in place because BTG can only be bought or mined.
READ ALSO: Is Holo (HOT) Crypto A Good Investment?
Like Bitcoin. BTG has been total supply is 21 Million coins, and currently, only 17 million have been mined. Bitcoin is now settling at 18.8 Million. The mining hash function for BTG is SHA- 256, just like Bitcoin. The SHA also allows the miners with ordinary personal computers to engage in BTG mining.
Advantages of Mining BTG
Mining BTG coin has a lot of privileges that the miners enjoy. Some of these include
Increasing security.
Ordinary users get access to mining pools with ease.
The BTG network has advanced codes providing better performance during mining.
However, the BTG team needs to look at and address the duplication of BTG, which confuses any with Bitcoin. It's also good to note that the value of BTG has since its initiation dropped. The 2021 Bull Run has helped the coin surge from around $4 to the current value of $66.98.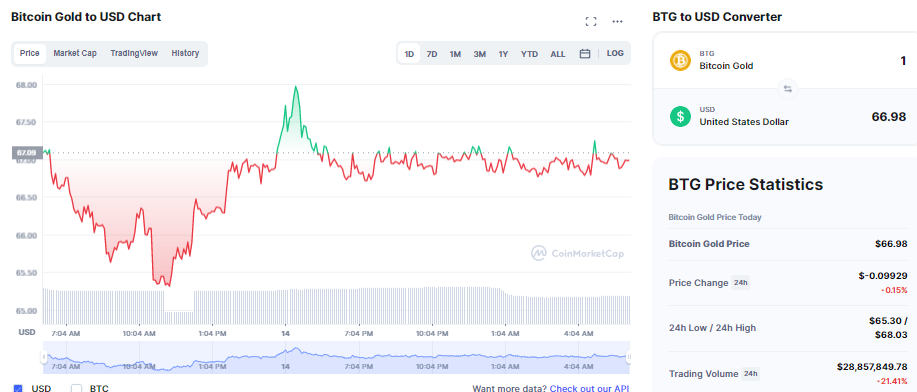 BTG Analysis
BTG is still yet to hit its previous ATH. In 2017 November, the price sank to $150 from about $450. Later in December, the coin's price shot up, but again it was never strong to sustain the fall of the crypto and sunk, consolidation between $8 and $17 until the start of 2021.
The price began rising at the start of 2021, finally managing to cross the $100 mark. However, the market has dropped and is now settled at over $66.
BTG Price Prediction
BTG is still deep in the red zone, pending that it is yet to regain most of its ground lost. The question lingering in the investor's mind is whether BTG will still deepen its curve further or gain back.
According to traders and experts, the price is still on a bearish trend in the short-term analysis. However, they expect that it will not take long, meaning it might be an average drop. BTG analysis shows that it will hit the $300 mark in 3 years in the long term.
The beautiful thing is that. It is generally on a bullish trend based on where it is coming from. However, BTG seems to be slow. Therefore, the end of 2021 might see the coin dropping to around $55 before picking up again to settle at around $130 in the first quarter.
Based on the above analysis, the coin is still a viable investment. But Experts are still hopeful it to rise to reach its previous ATH of $456.25.