With the global crypto market cap down by around 2%, most top coins were trading in red on Tuesday. Like always, exceptions managed to garner the limelight. Decentralized blockchain and oracle network Chainlink's native LINK token defied the broader slump and emerged as the second largest gainer today.
The whole ecosystem is currently bearing the brunt of the FTX fallout. Nonetheless, it seems like Chainlink has benefitted from the same. A recent tweet by Santiment revealed that the network's active addresses began surging around the time FTX collapsed. In fact, it is currently, hovering around its May 2021 high. Chalking out the same, the analytics platform tweeted,
"The bigger story is the LINK's sudden active address surge, which began surging approximately when the FTX fallout occurred, & it is still up at one-year high levels."
As far as numbers are concerned, over 8k unique addresses interacted—or became direct participants in successful transactions—per day last week.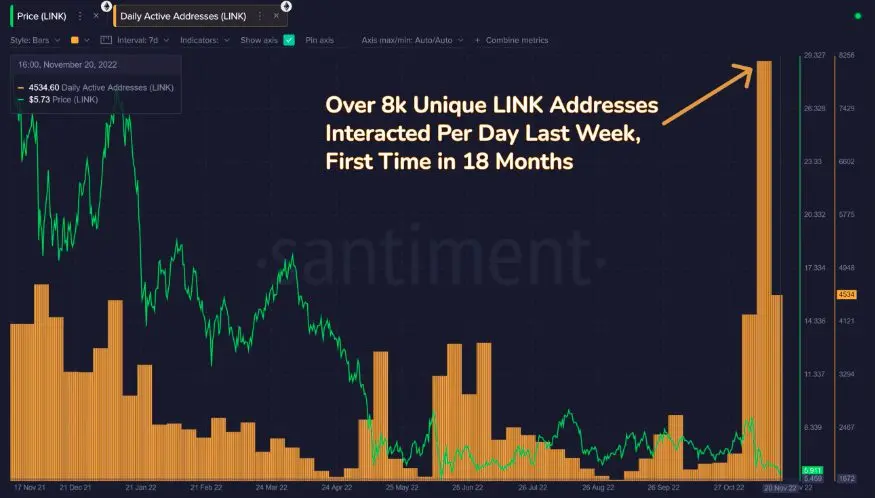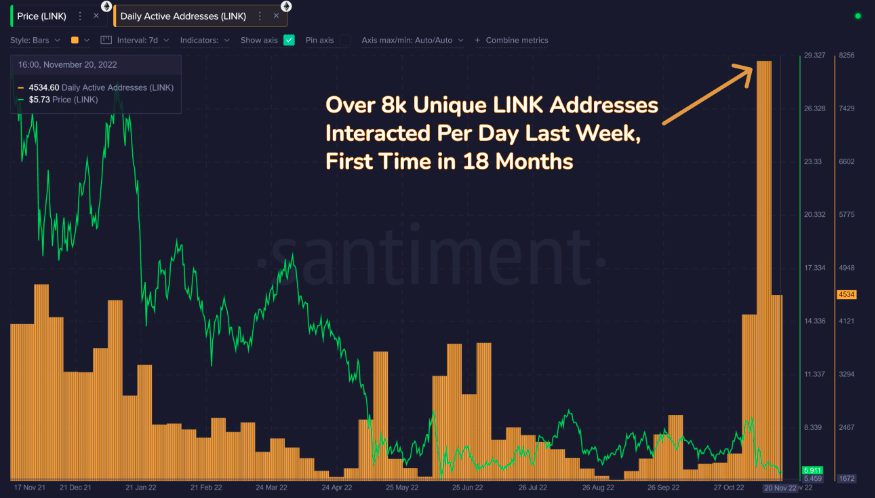 The Staking Factor
Usually, refined participation by traders/investors sets the stage for a price rise and the latest pump justified that narrative. However, this time around, LINK had support from another factor too. A few hours back, the official Twitter handle dropped an announcement about staking—a core initiative of Chainlink Economics 2.0.
The official blog post revealed,
"We're excited to announce that the beta of Chainlink Staking (v0.1) is planned to go live on Ethereum mainnet on December 6, 2022, at 12PM ET. Addresses that qualify for Early Access will have the opportunity to stake up to 7,000 LINK in the capped v0.1 staking pool."
After two days, on December 8, 2022, at 12PM ET, the capped staking pool will open to General Access. At that point in time, anyone will have the chance to stake up to an initial limit of 7,000 LINK per address, subject to the initially limited 25M LINK pool cap.
Post the announcement, Chainlink's price dropped down to create a local low of $5.52. After that, however, as the community got excited and the hype started building, LINK notched up in value by over 11.25%.
Even though a slight retracement was noted after the hype pump, the 21st largest crypto asset was trading above $6 at press time. The current price seems to be quite attractive to scoop up LINK tokens. In fact, according to analyst Michaël van de Poppe,
"Chainlink at $6-9 remains to be a great opportunity of a lifetime."