A report was recently published by the crypto analytics firm Sanitment, indicating that Shiba Inu could be considered a "blue-chip" among Ethereum altcoins. In other words, this dog meme crypto has gained a lot of traction over the last few months.
Santiment is a financial market data content platform for cryptocurrency. In a blog post published on November 16th, 2021 Santiment discussed the recent "dump" of the crypto market. They focused on the ERC-20 tokens to find out which were most affected by the sell-off.
The ERC-20 tokens that were researched included $UNI, $SHIB, $YFI $AAVE, and $LINK. Although, here we will be focussing on the $SHIB portion of the report.
What is Shiba Inu?
Shiba Inu is a decentralized cryptocurrency on the Ethereum Network. Shiba Inu was created anonymously in August 2020 under the alias "Ryoshi." The coin aims to be a counterpart to the famous Dogecoin. According to the Shiba Inu website, SHIB is the "DOGECOIN KILLER"
Shiba Inu is an ERC-20 token, using the proof-of-work (PoW) consensus mechanism to verify transactions. However, the developers claim to be transitioning to proof-of-stake (PoS).
The meme coin quickly took off as the community and investors continued to grow. In addition, gained recognition from Elon Musk and Vitalik Buterin.
In early May 2021, dog-themed meme coins like SHIB saw transaction volumes in the hundreds of millions. Subsequently, Shiba Inu hit an all-time high of 0.00005 on May 10, 2021.
On May 13th, 2021 Vitalik Buterin received half of the token supply from the SHIB developers. However, Buterin quickly announced he was donating a large portion of the SHIB to fund COVID relief. Therefore, causing a 44% drop in price.
The Santiment Report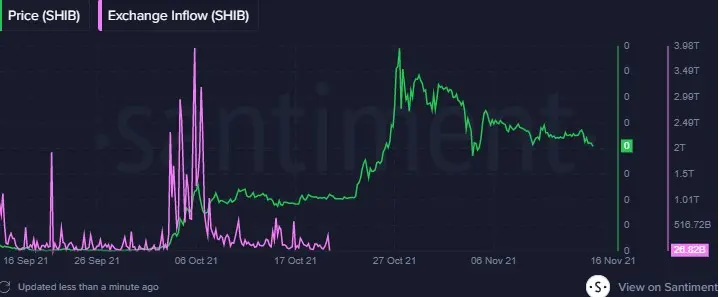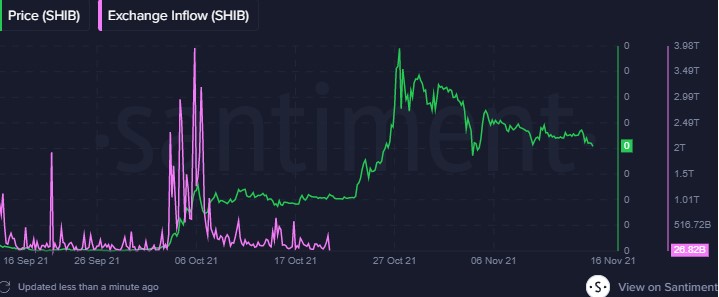 The Santiment report stated "A declining trend of SHIB being deposited to exchanges is indicating that traders are not afraid of Shiba going down. They are not going to send tokens to exchanges to sell."
Netowrk Profit Loss
As indicated by the picture above, there were almost no panic sells amongst SHIB holders. Therefore, a majority of SHIB Investors are interested in holding their SHIB long-term.
Whale Behavior
Within this section, Sentiment looked at "supply distribution by the balance of addresses holding from around $500K to $50M worth of tokens." Further, they found nothing unusual in terms of SHIB holders.
Conclusion
The report by Santiment led to the following conclusion:
"We do not see many signs of panic or sell-offs within selected ERC-20 tokens. People don't seem to worry about the dump. It makes us suggest we might see a further correction until holder's confidence wipes off."
From the findings of the Santiment report, is Shiba Inu the most fundamentally strong dog coin?