SundaeSwap's mainnet officially launched at the beginning of this year and the crypto community was quite excited about it. The same was evident in the double-digit surge registered by Cardano [ADA] around the launch.
Of late, however, the said scalable decentralized exchange built on top of the Cardano blockchain has not been faring that well. Miniswap and WingRiders currently remain ahead of SundaeSwap in terms of the total value locked. On the monthly, the same for the former two stand in green [+1.18%, +1.31% respectively]. For the latter, however, the cumulative value locked has shrunk by 5.7%.

Unlike other exchanges, token outflows have been more predominant in SundaeSwap's ecosystem, resulting in a drop in the value locked. However, as illustrated below, the intensity of the same has been reducing of late, hinting at a potential improvement of the TVL going forward.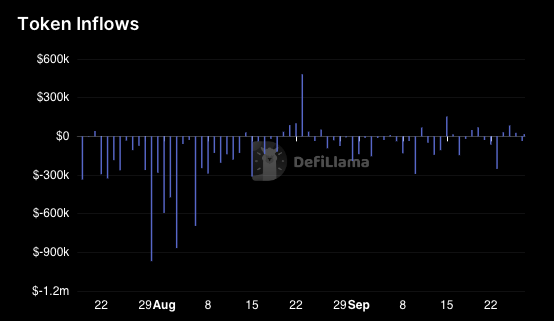 Cardano's DeFi health check-up
Cardano's TVL on the whole, however, has not necessarily been dented. Exactly a month back—on 27 September—the value of all tokens locked on Cardano stood at $77.9 million. However, the same stood at $81.61 million at press time on Tuesday. The same is a sign that other protocols have been able to cover up for SundaeSwap.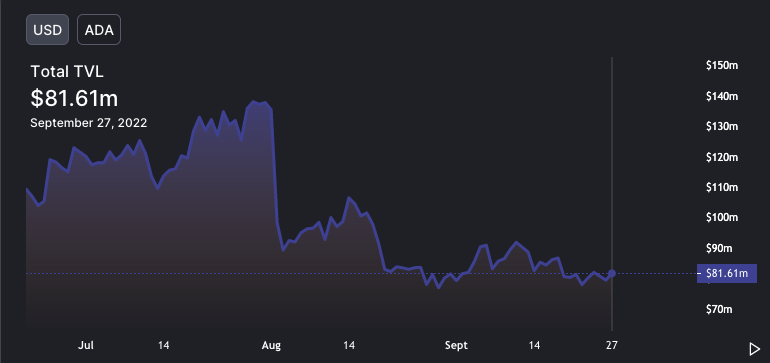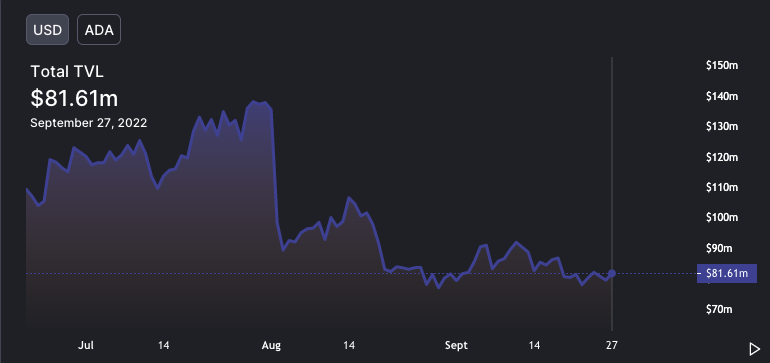 Nevertheless, when its performance with other chains is compared, Cardano still remains to be miles behind. Its aggregate TVL number stands in millions, while for other top chains—like Ethereum, Tron, BSC, Avalanche, Polygon, and Solana—it stands in the billions bracket.
Furthermore, it is worth recalling that smart contracts went live on Cardano post the Alonzo hardfork last year. And, even on the said front, the number has not been able to keep up the pace. Over the past few months, the number has largely remained below 100k.
As illustrated below, some improvement was noted last week as the number of transactions executed on the Cardano blockchain inclined to 73.7k, but it currently stands at 53.2k, indicating that Cardano is not in its best DeFi health of late.