Terra has been in the news for various reasons of late. Earlier last the week, The Terra Foundation had added 4,117 BTC to its reserve, while right before that, the protocol had chosen Avalanche over Ethereum to back its stablecoin reserve. More recently, Terraform Labs had gifted Luna Foundation Guard [LFG] LUNA worth $10 million.
On Monday, yet again, the protocol and the stablecoin associated with it managed to garner the attention of people from the community. This time, the reason was the UST-BUSD ranking flip.
Terra's UST gets ahead of Binance's BUSD, but…
On Monday, 18 April, the cumulative market valuation of Terra's UST crossed $17.5 billion. As a result, this stablecoin managed to displace Binance's BUSD on the rankings chart. At press time, the market cap gap was quite narrow and didn't even exceed $75 million.

Crypto ranking shuffles usually take place daily. However, this phenomenon is not-so-common in the stablecoin market. Coins like Tether, USD Coin, and Binance USD have long-established their dominance in the market. But now, with Terra's UST stepping up, is there a cause of concern for these apex stablecoins?
Well, doesn't seem so. The OG stablecoins continue to maintain their appeal among market participants. As can be seen from the CMC snapshot attached below, the 24-trade volume of UST merely reflected 9 digits at press time [$445 million, to be precise].
On the other hand, USDC and BUSD worth $3.5 billion each were traded in the same window. As expected, USDT—like a leader—paved the path. Notably, market participants had carried out Tether transactions worth $55.9 billion over the past day.
Well, looks like a significant increase in UST's circulating supply had caused its market cap to balloon up. Per data from Messari, since the beginning of this year, UST circulating supply has almost doubled from 10.1 billion to 17.4 billion. USDT, USDC, and BUSD's supply, on the other hand, merely inflated from 78.3 billion to 82.7 billion; 42.1 billion to 50 billion; and 14.6 billion to 17.4 billion respectively in the same YTD period.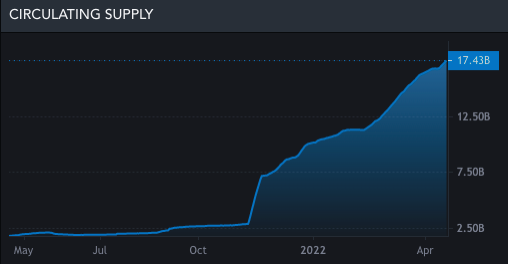 Thus, with the increase in supply, if UST doesn't witness a simultaneous rise in demand/adoption, it would be challenging for it to thrive over the long run.