The beginning of March marked the departure of developer Andre Cronje's from the DeFi space. At that point in time, the DeFi market was in dire straits and Yearn Finance was one of the most hard-hit tokens.
In a recent article, it was outlined how and why speculations have been going on that the project is being left to die. However, the state of a couple of metrics like whale buying portrayed otherwise.
On the liquidity side, nonetheless, things continue to go downhill. Per data from DeFiLlama, the total value locked on the protocol peaked at $6.9 billion in December last year. Right after attaining the said feat, it flipped and initiated its downtrend journey. After continuously depreciating over the past 5 months, Yearn Finance's liquidity stood at merely $1.1 million at press time.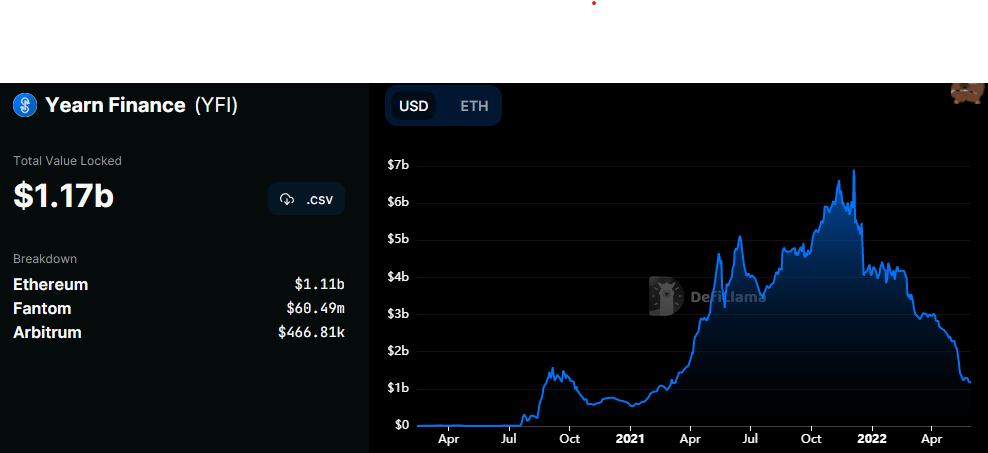 Can the 'DeFi darling' pose a comeback?
Well, it shouldn't be forgotten that the entire DeFi space is bearing the brunt of the broader market slump at this stage. The TVL of the cumulative space was well over $230 billion back in December last year. Now, however, the same has already shrunk by half to $110 billion. So YFI is essentially not alone, and the entire DeFi market is facing a liquidity crunch at the moment.
To add further relief, per on-chain analysis platform Santiment's latest analysis, the state of a few key metrics has gotten even more refined of late. On an individual front, developers haven't abandoned the project and the state of activity on the said note has been escalating despite the state of the market.
As such, one of the most anticipated updates deals with the introduction of veYFI to the project's tokenomics. veYFI's code is apparently "done" along with two audits already, and now, just the UI is underway. The rising activity on this front perhaps corresponds to devs building yearnV3 and the veYFI model.
Despite whales gobbling up tokens, it should be noted that the cumulative YFI balance on exchanges has noted a sharp uptick since the beginning of May, indicative of mass-selling. Perhaps, that's the reason why the token's price hasn't been able to notch up. Over the past week alone YFI has shed 14% of its value. Once valued at $95k, this DeFi token was priced at merely $8.1k at press time.
Given the macro sell-bias present in the market, YFI's mid-term prospects still look bleak. However, investors can rely on the protocol's development activity and expect the same to rub off positively on the valuation over the long term.