Hindenburg recently released a report analyzing how inflated user metrics and "frictionless" fraud facilitation enabled Block insiders to cash out over $1 billion. The research-led hedge fund published its report after a two-year investigation. It alleged Block for "systematically" taking advantage of the demographics it claimed to be helping. According to Hindenburg,
"The "magic" behind Block's business has not been disruptive innovation, but rather the company's willingness to facilitate fraud against consumers and the government, avoid regulation, dress up predatory loans and fees as a revolutionary technology, and mislead investors with inflated metrics."
Now, a recent Bloomberg report brought to light that Dorsey's fortune shrunk by $526 million on Thursday, March 24. This marked his "worst single-day decline" since May. In fact, according to the Bloomberg Billionaires Index, he is now worth only $4.4 billion post the 11% drop. Dorsey reportedly has most of his "personal fortune" tied up in Block. In fact,
"The Bloomberg wealth index estimates his stake in the firm is worth $3 billion, while his position in Elon Musk's social media company [Twitter] is valued at $388 million."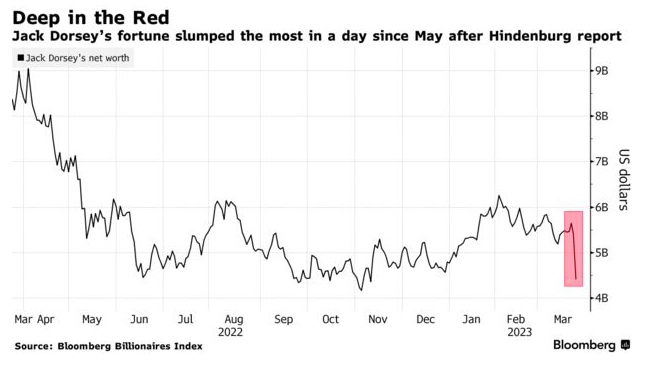 Well, this is not the first time an executive's personal wealth has been slashed. In January this year, Hindenburg alleged Indian billionaire Gautam Adani's companies of accounting fraud and stock manipulation. The same instigated a selloff in shares of his companies. Adani, once the world's second-richest person, now occupies the 21st position on Bloomberg's wealth index. Currently, his net worth is around $60.1 billion.
After the release of Hindenburg's latest report, Block's shares tumbled in value. However, it managed to erase some gains and close in the green on Thursday, March 23. Nevertheless, there was still a 14.8% gap in the chart.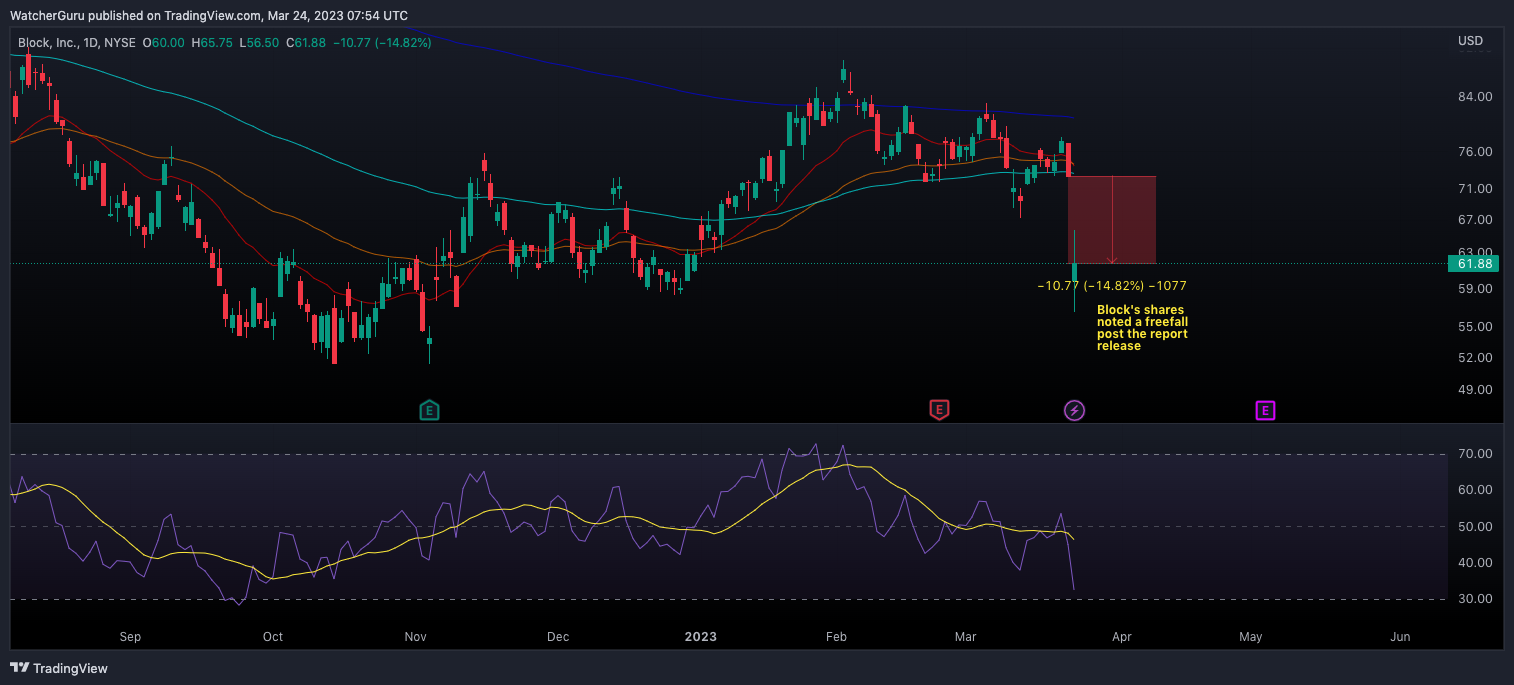 Cathie's ARK gets affected by the storm too
Here, it is worth noting that Cathie Wood's ARK has a 6.24% exposure to Block. Thus, owning to the latest Coinbase legal drama and the latest Block episode, the asset management company suffered a "double blow." However, as reported earlier, ARK has started taking advantage of the discounted share price and is refilling its COIN bags.
Also Read: Are Bitcoin Investors Paying Extra to Buy on Coinbase?
Prior to these episodes, Hindenburg's report on electric-vehicle maker Nikola in September 2020 also sent its stock plunging to low levels. In fact, it eventually led to criminal charges against the company's founder, Trevor Milton. He was eventually declared guilty in October last year for defrauding investors.
Block, however, has called the Hindenburg research report "factually inaccurate and misleading." In fact, it is also exploring "legal actions" against the research firm for its report.
Also Read: SEC Sends Coinbase Wells Notice, Warns of Potential Securities Charges