One of the earliest documented versions of the metaverse came in 2003. A Californian-born Philip Rosedale fashioned an online video game called Second Life – a platform where one could create a virtual avatar of themselves and interact with other users, essentially creating a 'second life'.
Fast-forward to the next 19 years and metaverse has grown into a $47 Billion industry, where virtual assets can be created, sold, designed, and even auctioned. The sea of endless possibilities is still being explored and with great opportunity, comes great profits. Perhaps that's a large reason why Wall Street firms have taken a particular liking to the metaverse. Recently, Fortune 500 investment and advisory firm JP Morgan pitched their take through a document titled "Opportunities in the metaverse".
The New-York based company stated $54 Billion is spent on virtual goods every year, double the amount spent on buying music. It added "The metaverse will likely infiltrate every sector in some way in the coming years, with the market opportunity estimated at over $1 trillion in yearly revenues"
A host of different factors have contributed to the metaverse expansion, such as the rise of decentralized finance, surge in the popularity of NFT's and the rise in video game users. However, few can argue against the impact that the ongoing pandemic has had on the metaverse.
"From a social perspective, the development of more immersive virtual experiences
is helping people to build communities based on shared values, and to express
themselves in more authentic ways. Meanwhile, COVID-19 accelerated the
digitization of our lives and normalized more persistent and multi-purpose online
engagement and communication"
Meta Changes The Metaverse Landscape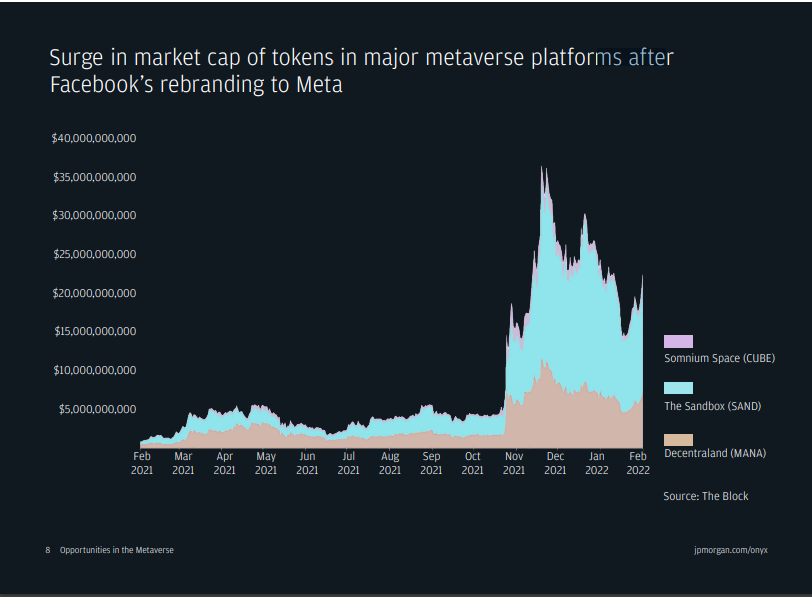 The investment bank also acknowledged the impact Facebook's rebranding to Meta in October 2021 has had on the space. Market capitalizations of projects such as The Sandbox, Decentraland, and Somnium Space hit mainstream media thanks to Meta, making them as attractive, if not more than some of the traditional Wall Street firms that have operated for decades.
The economic benefits that the metaverse offers are second to none. JP Morgan went on to add that virtual real estate is a fast-growing industry, with an average price of a parcel of land jumping from $6,000 in June to $12,000 by December 2021 across the four main Web
3.0 metaverses. Last year, a virtual plot of land on The Sandbox was sold for a whopping $4.3 Million. That's more expensive than buying an average house in Malibu.
Alas, the metaverse is being explored and JP Morgan noted a lot of issues still needed to be solved. Among them were Web 3.0 virtual world integrations with traditional payment service providers, Web 2.0 virtual world integrations with crypto payments and NFT, KYC/anti-money laundering compliance keys, among others.
Bottom Line
The bottom line is that there really isn't one. The metaverse is dynamic in nature and businesses can be flexible in how to embrace this evolving technological wave. "The asymmetrical risk of being left behind is worth the incremental investment needed to get started and to explore this new digital landscape for yourself".
Interestingly, JP Morgan became the first major financial institution to enter the metaverse. The firm opened a virtual space in Decentraland, known as the "Onyx Lounge"