Recent research by analytics platform Kaiko revealed that the Korean crypto markets have a "very unique" market structure. Now, in most other regions, Bitcoin and Ethereum are the most picked cryptos by market participants. However, that's not essentially the case in Korea. Elaborating on the same, the platform tweeted,
"Instead of BTC and ETH as the dominant assets, traders prefer Altcoins."
That being said, it is interesting to note that the investors who are diverting funds into the top crypto are paying a premium. In fact, such has been the case throughout this year. Barring a couple of instances every month, Bitcoin's Korea Premium Index has mostly been above the zero line. In fact, it stood at 2.04 at press time, indicating that the 'buy the dip' phenomenon is in play.
Now, on the micro-frame, it might seem like Koreans are trying to apply buying pressure in the Bitcoin market. However, it should be noted that the intensity is quite mild, for now. During previous bull markets, the Bitcoin Premium Index's reading has spiked beyond 21, justifying the assertion.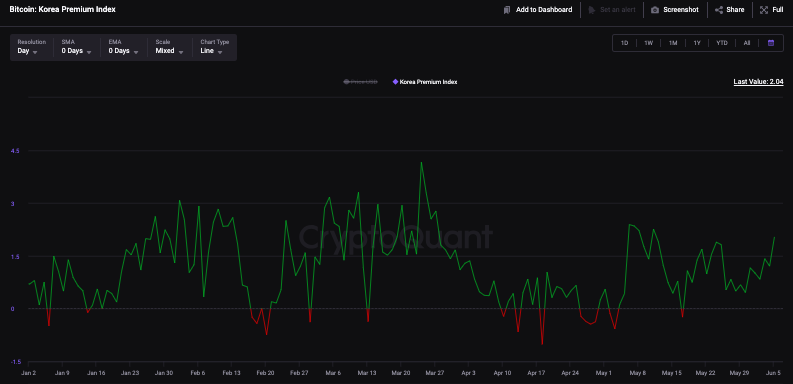 Also Read: Dogecoin Renews Bearish Streak: Network Scaling Down?
XRP, Dogecoin emerge as Korean favorite trade tokens
Now, given that Koreans are not essentially inclined on trading/investing in the top cryptos, where are they diverting funds? Revealing the same, Kaiko's research noted,
"YTD, XRP was the most traded Alt, with DOGE, SAND, and $ETC holding between 3-4%."
Other tokens that stood behind in the 2% bracket included Arbitrum, Axie Infinity, Aptos, Waves, Serum, Decentraland, etc.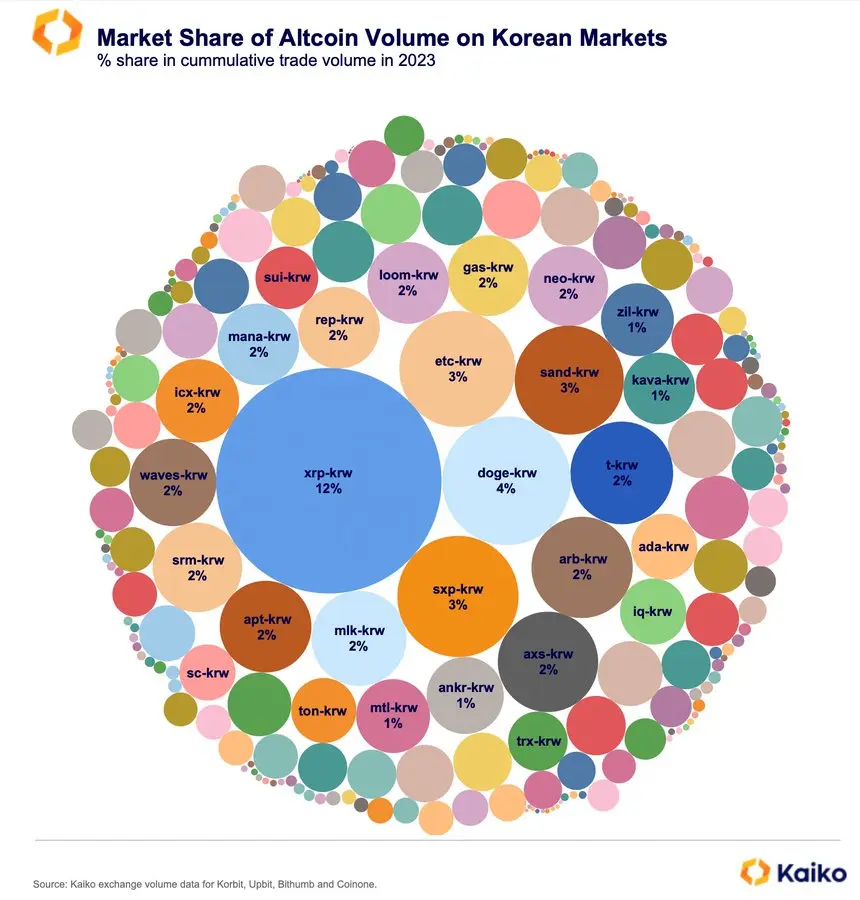 In fact, on native exchanges like Bithumb, XRP was seen commanding more than 1/4th of the total trade volume. On Upbit, XRP's share was 18.5%, while on Korbit, it accounted for a whopping 33% of volume.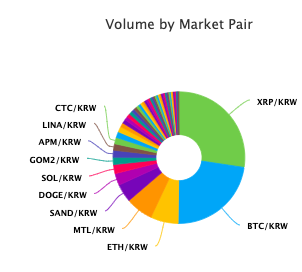 Also Read: Dogecoin Renews Bearish Streak: Network Scaling Down?