The Terra (LUNA) and UST debacle has left quite the scar on the crypto-realm. In a recent development, Lido Finance, a liquid staking solution for ETH 2.0, has revealed that it will not support the new Terra blockchain when it is relaunched.
The Lido DAO voted to not endorse the Terra reboot. after a debate on the launch of Lido on the new Terra network.
The Lido DAO voted overwhelmingly in opposition to supporting the new chain, with 95% of members voting against it. Only 3.1 million LDO (Lido's governance token) voted in favor, with 54 million LDO rejecting it.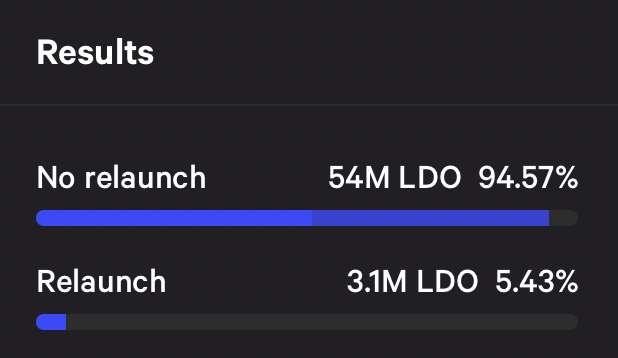 The Terra team recommended relaunching the network after its fall. Following that, they intend to distribute tokens to various people who were affected by the old network's collapse. Albeit, vesting periods apply to several of the tokens. The airdrop specifically distributes tokens to projects that pledge to build on the new blockchain, including emergency funds for the biggest ones.
Lido Finance would have been eligible for these funds if it had elected to support the new Terra network. According to the proposal, building on the new chain would bring Lido Finance $19,250 in monthly income.
However, it now appears that the incentives were not enough to convince Lido Holders. The Terra-LUNA-UST situation has left a sour taste in the mouths of many investors. Many have lost their life savings, with some even losing millions of dollars. It is way too early to revive the trust that was lost in this historic event. With founder Do Kwon's previous run-ins with failed stablecoins, the damage done to his reputation will take some time to rebuild.
The new Terra (LUNA) is planned to go live in the next two days, and it has the entire crypto community at the edge of their seats to see how it plays out.