Bitcoin [BTC], the world's largest cryptocurrency came into existence with the objective to render financial freedom. Satoshi Nakamoto aspired to create a new market that was free of the constraints imposed by government-controlled institutions.
However, the ethos of the crypto industry was repeatedly exploited. Now, as governments have started viewing the crypto market as a viable arena, people were pushing their respective lawmakers to legalize crypto.
The crypto-verse has seen a number of countries around the world legalize Bitcoin in the previous few months. El Salvador's decision was hailed as innovative and revolutionary. As Russia and Ukraine pushed for the legalization of these assets, the community expected the US to follow suit.
The US has a love-hate relationship with crypto. Several lawmakers from various US states and cities were seen attempting to implement Bitcoin-friendly initiatives. However, the government has clouded the crypto space with uncertainty.
State senators attempting to make Bitcoin legal money in their jurisdictions drew the attention of the Bitcoin community. Arizona's state senator Wendy Rogers vowed to give BTC a legal stature. Don Huffines, a contender for Texas governor, also pledged to make Bitcoin a legal tender if elected.
'Make Bitcoin Legal Tender'
Following this, a number of people across the country demanded that their states legalize Bitcoin. The host of the Smart People Shit podcast, Dennis Porter wanted to make it easier for people to be able to do so. As a result, he rolled out a portal for citizens across the country to submit messages to their elected officials.
Porter further revealed that about 4,200 messages were sent within the course of just 15 days.
Porter prepared a message emphasizing the need of integrating Bitcoin as legal tender. The website further pointed out that Americans wanted to be protected from the inflation created through monetary debasement. The message goes on to say,
"This debasement is an invisible tax on Americans from an unelected board of bankers. We do not accept taxation without representation. Many of us have chosen Bitcoin as our medium of exchange, but the federal government does not recognize Bitcoin as legal tender."
Will this remain just a dream?
Given the existing rules, Bitcoin becoming legal money in individual states might remain a pipe dream. The U.S. Constitution forbids individual states to create their own legal tender.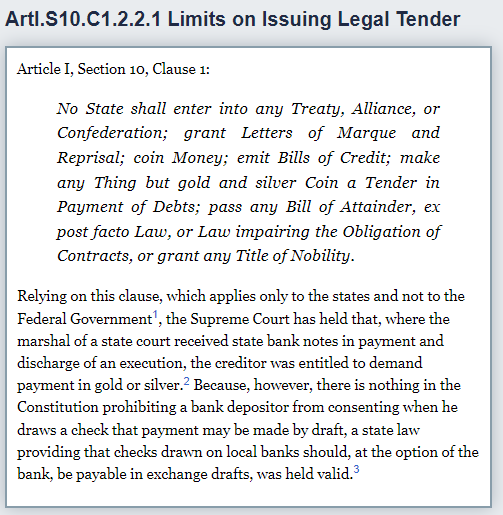 As soon as this became known, the community began to speculate that the possibilities of Bitcoin becoming legal tender in the country were little to none. All that state senators could do was draft a bill that should garner a green signal from the state senate as well as house before being sent to the governor.
However, in order to keep up with other governments, the US could jump onto this trend.