MATIC has shifted to an important trendline after extending its correction to Wednesday. Ideally, an oversold RSI and bullish twin peak on the Awesome Oscillator should trigger a bullish rebound but a weak Bitcoin could play spoilsport. To be on the safer side, traders should stay put and wait for a clear move in either direction. At the time of writing, MATIC traded at $2.03, down by 2.2% over the last 24 hours.
MATIC 4-hour Chart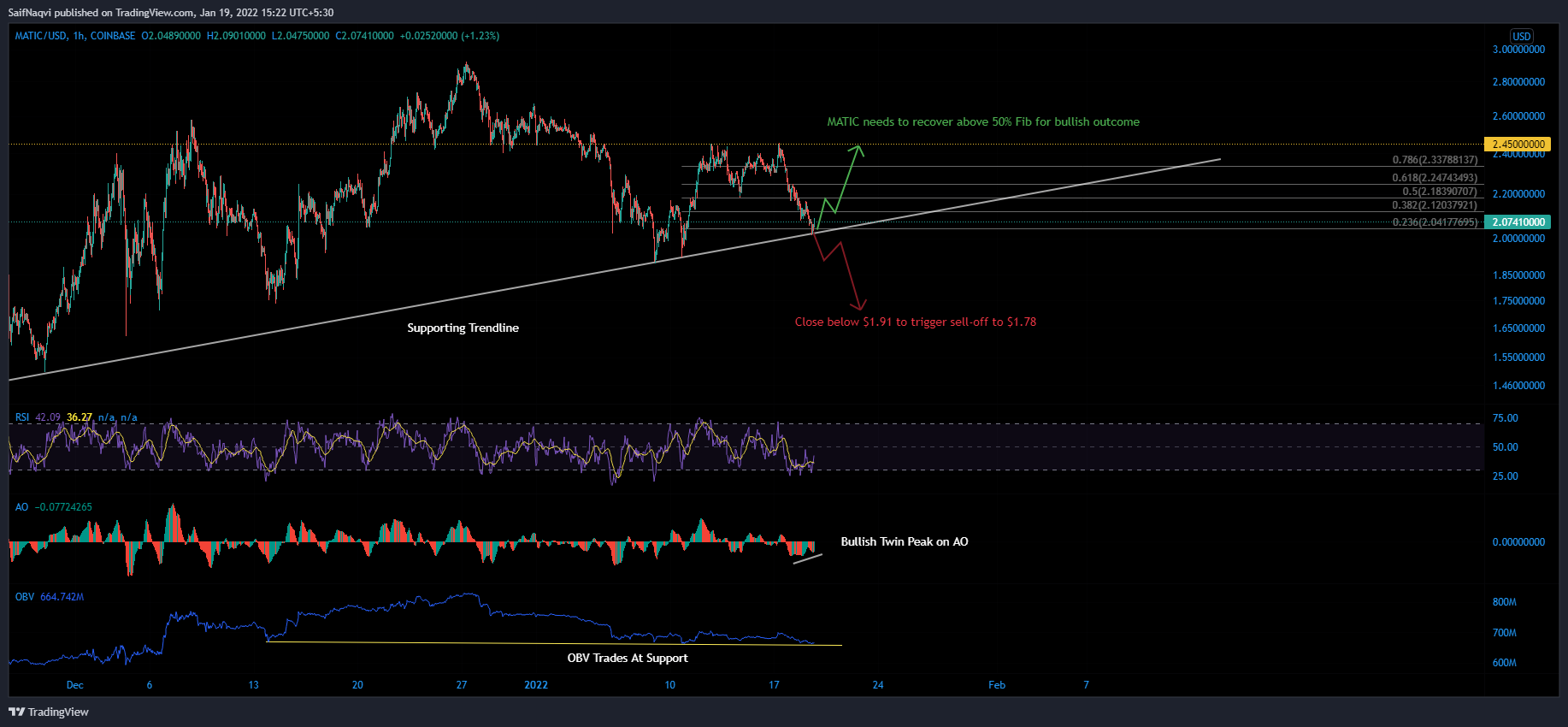 Lately, MATIC's price has been under fire after a double top at $2.45 led to an 18% market drawdown. As a result, its price is now tested at a trendline that has consistently lent support since September 2021. The trendline also coincided with the 23.6% Fibonacci level (calculated from MATIC's ascent to $2.45 from $1.91) and formed a bit of a safe zone for MATIC.
New longs within this region would likely see MATIC mount another comeback to $2.45 until a trip top pattern initiates another correction. Overall, the move to $2.45 would account for a 20% ascent from MATIC's press-time level.
A favorable outlook was backed by the hourly RSI, which was trading close to oversold territory. Its current reading makes for an attractive buy opportunity as MATIC remains 'undervalued'.
In fact, a bullish twin peak on the Awesome Oscillator suggested that buyers were outpacing selling over the last few hours. The setup often signals a strong wave of bullish momentum.
However, broader market dynamics must be understood before making any long bets. Bitcoin was expected to challenge $40K soon and a breakdown would not bode well for alts. The same would likely see the MATIC slip beneath its support trendline and register a new low of around $1.78.
Moreover, the hourly OBV showed that sellers were dictating market movement since 27 December. Just like MATIC's price, its OBV was also trading at crucial support and awaited a crucial rebound.
Conclusion
Traders should wait for a bullish or bearish confirmation before placing any bets. For a favorable outcome, MATIC needed to ground its feet above the 50% Fibonacci level. Meanwhile, a bearish outlook would be validated if the price slips below $1.91.