2022 was quite a rough year for the crypto market and the macro-economy as a whole. Investors were burdened by inflation and the back-to-back interest rate hikes. With caution being exercised by a majority of participants in the midst of uncertainty, trading and investing volumes hovered around lows.
Most stocks like Coinbase struggled to improve their valuation. However, MicroStrategy remained an exception. On the yearly front, MSTR is up by 36.4%, while COIN is down by 10.6%.
Owing to the macro bear run, both the stocks are significantly down when compared to the levels where they were trading in mid-April 2021. Coinbase is down by more than 86%. MicroStrategy has, however, been able to limit its losses to 68%.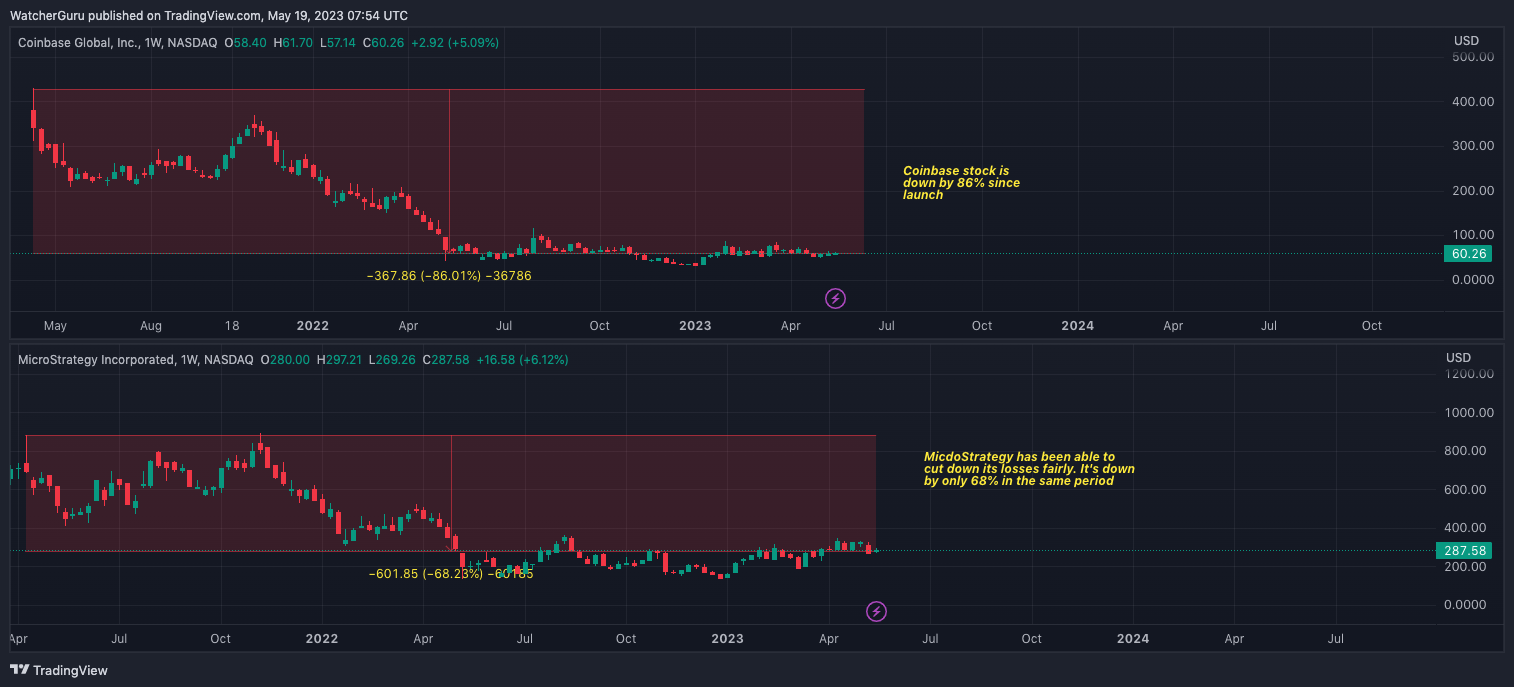 Also Read: SEC Sends Coinbase Wells Notice, Warns of Potential Securities Charges
At the moment, there's a lot of legal drama involving Coinbase. Last month, the exchange sued the SEC, seeking regulatory clarity for crypto. Specifically, it requested the court to order the agency to reply to its demand for more clarity around crypto laws.
Prior to that, the SEC issued a Wells Notice to Coinbase in March. The agency warned the company of potential federal security law violations. Typically, a Wells notice precedes an enforcement action.
According to Berenberg Capital Markets analyst, Mark Palmer, the SEC will likely file an enforcement action against the trading platform. Consequentially, he feels that MicroStrategy is a 'stronger bet' for investors relative to Coinbase. In his initiation note on Coinbase, Palmer recently wrote,
"Given the heightened uncertainty that Coinbase faces, we believe investors would be much better served investing in shares of MicroStrategy."
MicroStrategy and its Bitcoin edge
MicroStrategy has benefited from Bitcoin's bounce back in 2023. The company is an "attractive alternative" to Coinbase, given the regulatory pressures on the latter, according to Palmer.
According to data from Bitcoin Treasuries, MicroStrategy currently holds 140k BTC, while Coinbase holds only 4.48k BTC, giving the former a balance sheet advantage on the BTC holdings front.
In fact, as highlighted in an article recently, MSTR remains to be the top performer when compared to key assets and indices like gold, silver, bonds, S&P 500, and Nasdaq ever since it adopted its Bitcoin strategy. In fact, it is also ahead in the race when compared to big tech stocks and enterprise software stocks like Apple, Google, Microsoft, Meta, Netflix, Amazon, Oracle, IBM, Salesforce, SAP, etc. Rolling the ball further and drawing parallels with classifications, Palmer wrote,
"The SEC has characterized Bitcoin as a commodity while asserting that most (if not all) other crypto tokens are unregistered securities, putting Bitcoin and MSTR in advantaged positions amidst the regulatory onslaught."
Also Read: MicroStrategy Posts Q1 Profit With Bitcoin: MSTR Up 120%