US bank Morgan Stanley said in one of its published reports about Bitcoin and the lighting network, considering it to be superior to Visa.
Morgan Stanley published a Bitcoin and second-layer payment solution Lighting Network report recently. According to a report by Arcane Research, the network lets users make transactions instantly. It also records a staggering 410% growth every year.
Morgan Stanley envisions a worldwide Lightning Network adoption
Lightning reached a level of development, liquidity, and critical mass that pushed it over the line into being a truly usable network.

According to the report by Arcane Research
The usability suggests that the Lightning Network adoption has significantly increased, but there is still a question about its functionality on a large scale.
Chief Strategy Officer for the Human Rights Foundation, Alex Gladstein, reported the summary in a tweet. The report is a product of a recent partnership of Jack Maller's Lighting Network company Strike and Shopify, NCR, and Blackhawk.
The report mainly spoke about the potential of utilizing the Lightning Network for payments and settlements using digital currencies other than fiat like USD.
Morgan Stanley conveyed that Strike is competing directly with the payment giants like Visa Direct, which offers real-time settlement of payments. But what he noted was the difference in transaction fees, where merchants will be charged lower fees by Strike.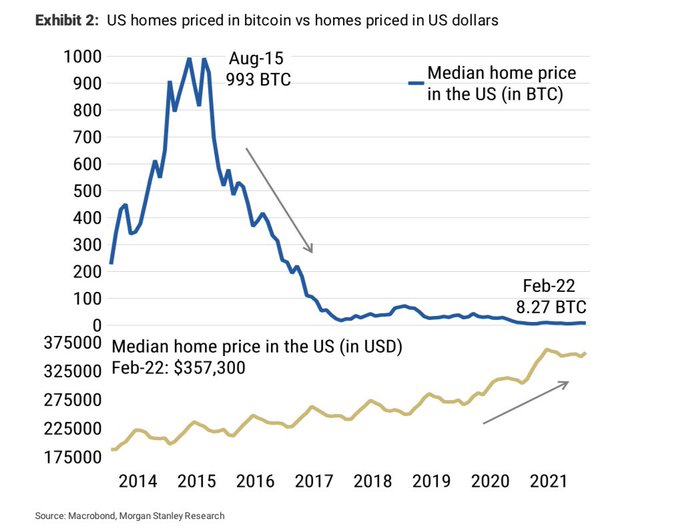 "While the benefit for the consumer is that they can, if they want, host their bitcoin on a private, secure network, allowing an element of privacy associated with their transaction"

Morgan Stanley
Morgan Stanley also talks about the various hindrances that might be faced for using Bitcoin payments, including customer psychology, volatility, and taxes. Etc.
This proposal "may come under considerable scrutiny as it would directly imply that crypto is a legitimate competitor currency to the US dollar"

Morgan Stanley
MS also argued that the users of Bitcoin are likely to spend their BTC during bear markets. One of the most beautiful charts in the report is the one below, displaying a graph of potato chips priced in bitcoin.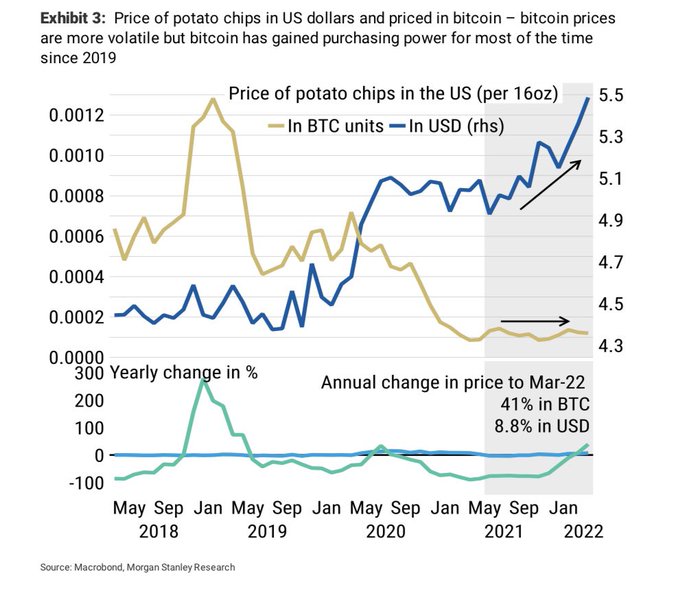 Morgan Stanley summarized that we are just at the beginning of an era where consumers will choose to pay for goods and services using cryptocurrencies.