Business in the NFT market has been going on as usual, regardless of the broader crypto market's "mood swings." Over the weekend, a novel project—Moonbirds—managed to steal the thunder of the top OG collections.
Based on Ethereum, this project has already managed to surpass the $250 million mark in total sales.
As such, this NFT artwork collection comprises 10,000 computer-generated pixel owl avatars in total. They were all instantly sold out on Saturday for a mint price of 2.5 Ethereum per NFT [$7,575 at press time].
The euphoria and excitement translated into demand for this NFT artwork. As a result, its price kept inclining. The floor price, or minimum price that one has to pay to acquire an NFT from this collection, has already swollen up to 18.8 ETH [$56,964 at press time]. In fact, on 18 April, the same was as high as 21.6 ETH.
Moonbirds NFT collection manages to shine amidst apes and punks
The striking debut managed to put Moonbirds on top of OpenSea's volume leaderboard not just for the day of the week, but for the last 30 days, ahead of top collections like Azuki, Bored Ape Yacht Club, and Mutant Ape Yacht Club.
Owing to the record-setting trading volume, this NFT artwork also became the latest collection to garner blue-chip status just days after its mint.
Per DappRadar, the "Moonbirds #7963″ NFT fetched the ninth-largest sale of all NFT collections over the past week at 135 ETH [$409,050 at press time].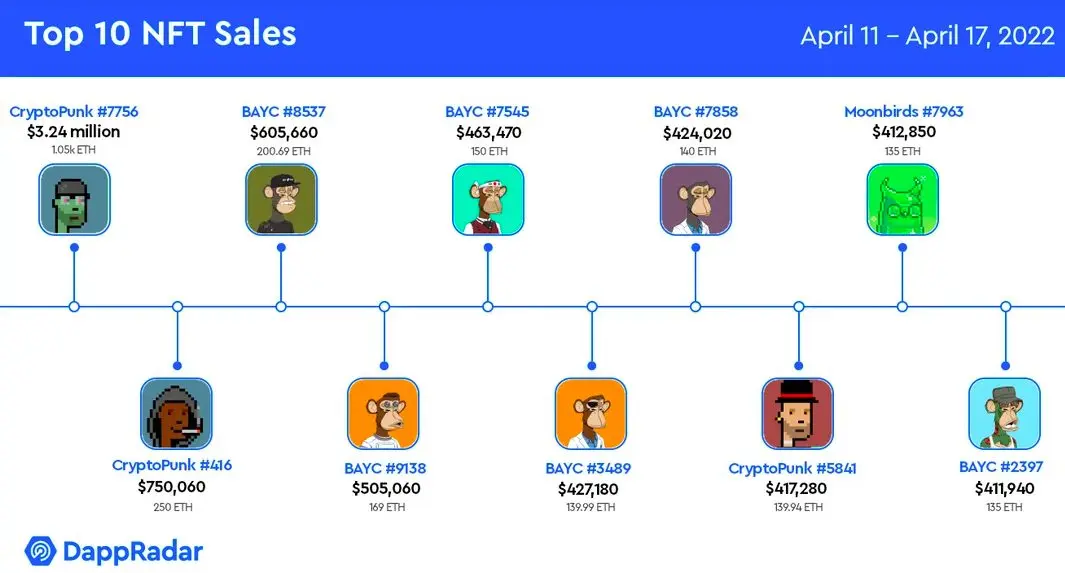 Moonbirds are more than just an avatar
The "Moonbirds" project has chosen to tread on a path similar to that of BAYC. As such, the NFT artwork's utility-focused avatars grant holders access to a private ecosystem and membership club.
Per the project's roadmap, HODLer benefits would include priority access to future drops, a membership club, merchandise, and early access to an upcoming metaverse platform named "Project Highrise."
Per people from the space, one of the main reasons why this project has seen early success is because of the team and the parent project behind it. Twitter user Cryptolocity elucidated the same on a Twitter thread.
At press time, the hype was seen fizzling out. According to data from CryptoSlam, the sale transaction numbers had already noted a daily dip of 69.4%.
Thus, if the project can pass this litmus test, and continue maintaining its dominance, it would be able to carve out a niche for itself right next to other OG NFT artworks. Token owners, at this stage, continue vouching for its long-term success. Twitter user mooncat2878, for instance, asserted,
"For Moonbirds this is just the start, we will see ups and downs, but in the long-term I have high hopes for the project to continue to evolve and have an important role to play in the NFT space."