Just a year back, it was impossible to fathom that JPEGs or digital art could be worth millions of dollars. Buying virtual land could become a serious competition and fashion industries would brand digital wearables. However, all these things were made possible in 2021, with the NFTs space becoming one of the fastest-growing trends.
According to data, in 2020, only $100 million trade volumes were recorded with these non-fungible tokens but in 2021, the activity has taken a different turn. In this article, we will analyze the past 12-months and understand the actual expansion of this space and whether 2022 will be more of the same.
NFTs registered $23 billion in trading volume
As mentioned earlier, NFTs went from recording 100$ trading volume in 2020, to a whopping $23 billion in 2021. The trend was initially set after Beeple's The First 5000 days was sold for a whopping $69.3 million. The floodgates opened thereafter with the top NFT collections floor market cap reaching an astounding $16.7 billion.
The blockchain industry expanded on various verticles in 2021. Unique active wallets or UAW connected to dApps increased to an all-time high level of 2.7 million. The hype was definitely made more constructive once Facebook rebranded as Meta, introduced the narrative of metaverse to the world. Suddenly, metaverse-based coins were rallying in the market, with blockchain virtual worlds generating over $500 million in trading volume, reaching a collective market cap of $3.6 billion.
Axie-ahead to Infinity?
While NFTs had their own market in terms of digital art, Axie Infinity brought forward a different use for the non-fungible tokens. The dapp spearheaded the play-to-earn dapp and the game included NFTs to be utilized in the form of Axie monster pets where were used in the game.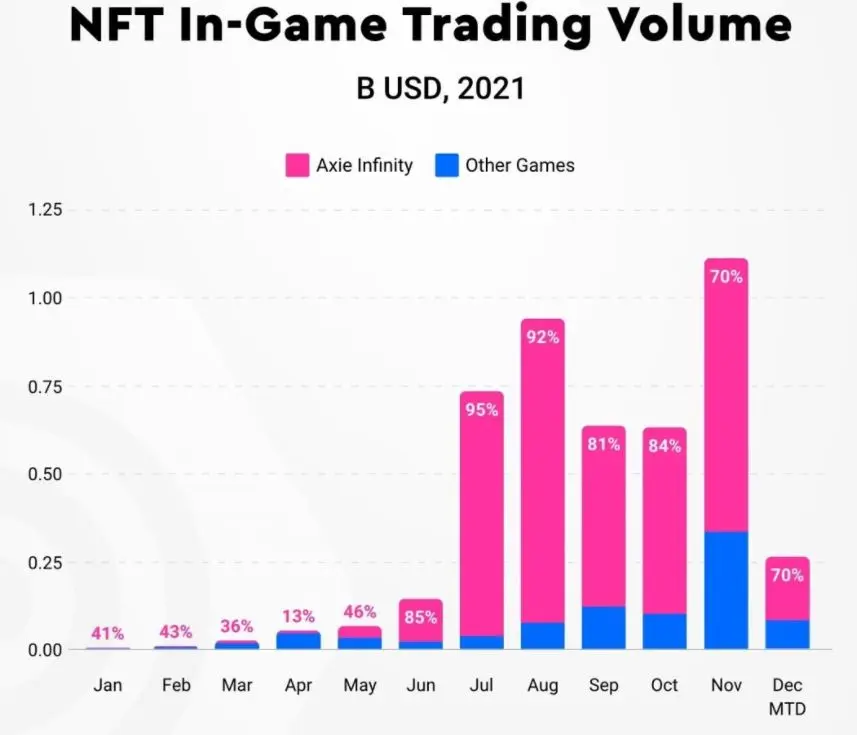 Axie has around 20,000 DAUs or Daily Active Users in March but it has gone up to 2.5 million, a 12,400% increase in a time period of 9 months. In addition to growth, Axie Infinity also become the most popular collective valued at $4 billion in trading volumes.
However, their remain some concerns for the coming year. Dappradar reports stated,
"Finally, even though security, regulations, IP, and other related topics are not as attractive as the impressive figures, they will undoubtedly play a vital role in 2022. The industry should prepare to learn more about these trends as mass adoption feels closer than ever."