The prices of prominent NFT collections have been dwindling. Demand has evaporated from the market, and people within the ecosystem have been hesitant to divert funds to artwork-centric tokens. In retrospect, the global crypto index for NFTs has registered a 65% drop in sales over the past 30 days.

In fact, per Dune Analytics' data, OpenSea sales volume has dipped by 75% since May. Last month, it noted the lowest levels since July 2021. Commenting on the same, Pedro Herrera, Head of Research at DappRadar, said,
"Without question, the NFT market has fallen off the cliff this June. While the market is way more mature, it is fair to say that in recent weeks, investors were looking for safer places to put their money amid the Terra collapse and the rumors surrounding potential liquidations."
The NFT market is also in a consolidation phase as the crypto market. CMC's data showed that the JPG NFT Index had decreased by more than 70% since its inception in April. As such, the said index tracks a handful of blue-chip NFT projects.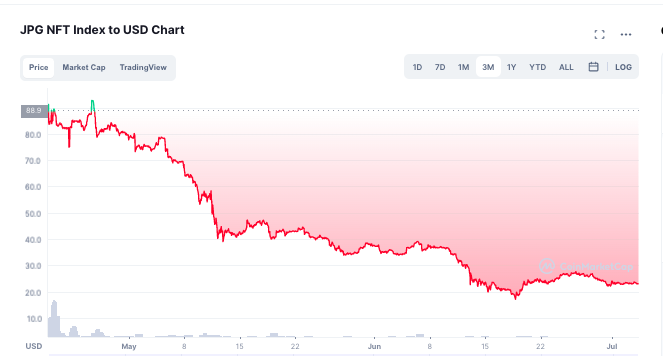 As seen from the chart affixed, the downtrend has halted, and the index's reading has been flat of late. Opining on the same, Bloomberg Opinion's Aaron Brown said,
"Much of the craziness was bled out of NFTs and they are going through a period of consolidation."
Bored Ape Yacht Club NFTs Q1 v. Q2 performance
Top collections like Bored Ape Yacht Club have suffered because of the broader bearishness. Most metrics have been affected, from sales to the average transaction count.
Consider the following:
| | |
| --- | --- |
| Month | Average BAYC sales |
| January | $238,139.52 |
| February | $219,820.32 |
| March | $237,118.80 |
Data from CryptoSlam
The data concluded that the average sale of Bored Ape Yacht Club was roughly $695k for Q1.
| | |
| --- | --- |
| Month | Average BAYC sales |
| April | $312,101.47 |
| May | $219,555.10 |
| June | $109,905.94 |
Data from CryptoSlam
Similarly, Q2's aggregate average sale number reflected a value of $641k, despite having an above-average start in April.
Data from CryptoSlam further brought to light that the transaction count had also dipped from 3146 [1456 + 586 + 1104] to 2242 [775 + 1019 + 748] in the same time frame.
Both the data sets, in conjunction, indicate that Q2 has been sour compared to Q1. Also, it can be inferred that collectors are exercising caution at this stage and aren't getting into transactions. Such has been the state of most other top collections and their investors.
However, it shouldn't be forgotten that the market has noted such phases before, and restrains are commonly observed characteristics during consolidations.
Per Brown, the market would be able to make past and 'survive' this phase. He said,
"I suspect they [NFTs] will survive, but on a much more sensible basis than at the height of the mania."