The NFT ecosystem on Polygon has gradually gained popularity over the months. It's a lower fee when compared to that of Ethereum's, made people—both buyers and creators—from the NFT market hop on and experiment with this network.
A day back, the number of OpenSea Polygon users reached new highs—the cumulative number had surpassed the 1.2 million thresholds. The same can be evidenced below.
Well, attaining the said feat in a period of less than a year is, of course, remarkable. However, this is not the full picture.
Other OpenSea Polygon metrics seem to be gloomy
The number of active monthly traders has consistently been dipping since January. From flashing a figure of 2159 back then, the number of traders currently stands at a deflated 956.

Alongside, the number of daily NFTs sold has also shrunk to the 40-50 range when compared to early January-February's 100-200. As a result, individual collections that have been newly launched on the network have been facing the consequences.
Take the case of the 'Farmers' Protest' NFT collection itself. As such, journalists and filmmakers launched the collection to preserve history and aid families. The collection of 24 NFTs was minted on Polygon two months ago, but unfortunately, not a single purchase has been made so far.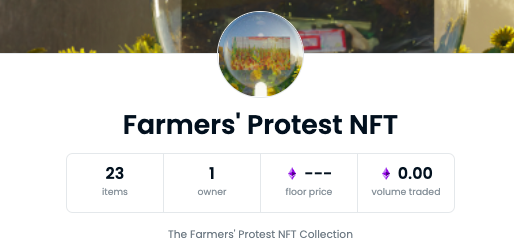 It's a known fact that the Indian NFT market is in the nascent stage, and perhaps, that's the reason why indigenous collections that are connected to Indian roots haven't been doing well. But at the same time, keeping the macroscopic Polygon-Opensea NFT dynamics in mind, it is quite clear that Polygon—on its part—has not yet been able to establish itself in a concrete manner in the NFT space.