Dogecoin is a meme coin that started in 2013. Engineer Billy Markus and Jackson Palmer developed this crypto to be an open-source peer to peer digital currency that will reach a bigger market share than Bitcoin.
Although Dogecoin started as a joke, making fun of the wild speculations of cryptocurrencies in 2013, it has gained investments and following since then. Dogecoin is an inflationary cryptocurrency compared to Bitcoin, which is deflationary. After a year of launch, Dogecoin had reached a market capitalization of $20 million.
DOGE Market Valuation
The primary currency of Dogecoin is the DOGE. At the time of writing, Dogecoin was trading at $0.2832 with a market cap of $37. 39billion and a trading volume of $3.26 billion. The total amount of DOGE in circulation is 132 billion DOGE.
Bitcoin developers created it to be scarce, but the Dogecoin creators wanted it to be in abundance. Dogecoins' miners can mine 10000 DOGE, and there is no maximum supply.
Dogecoin had an all time high of $0.731578 on May 08, 2021, and an all time low of $0.00008690 on May 06, 2015. Currently, the price is trading 61.2% lower than the all-time high and 326774.9% higher. This is a 326774.9% value increase for investors who bought Dogecoin in 2015.
Here is our Dogecoin Price prediction for November.
Dogecoin Price Overview
DOGE charts in TradingView show that from 2018 to the beginning of 2021, Dogecoin was trading at a very low volume and ranging at $0.003. In January 2021, Dogecoin had a bullish rally to a high of $0.0882 in February.
The price had a range at this high till April then had a bullish run to a high of $0.73905 on 3rd May. Since then, the price has been in a retracement. Using the trendline drawn, we can see that the main bias is bullish, so we expect prices to soar higher in the long run.
We can also see in this long term chart that price has tested a support zone at which it has held the price and has also collected contracts in the demand zones at $0.2144 and $0.2341.
The last demand to be tested is the $0.2341 that also falls along the trend line. This means from a long term chart technical perspective, we are expecting prices to start a bullish rally this November.
Dogecoin Short Term Price Prediction Analysis
For the Short term analysis, we will use the daily and 4-hour TradingView charts.
The daily charts show that the price has already collected contacts in the closest demand zone and has hit a trending line.
So we are expecting the price to go bullish and break the $ 0.34 high. Because the volumes increase when the prices are bullish( Because the main bias is bullish), the prices might break the $0.44 high. We expect the prices to trend strongly between $0.34 and $0.44.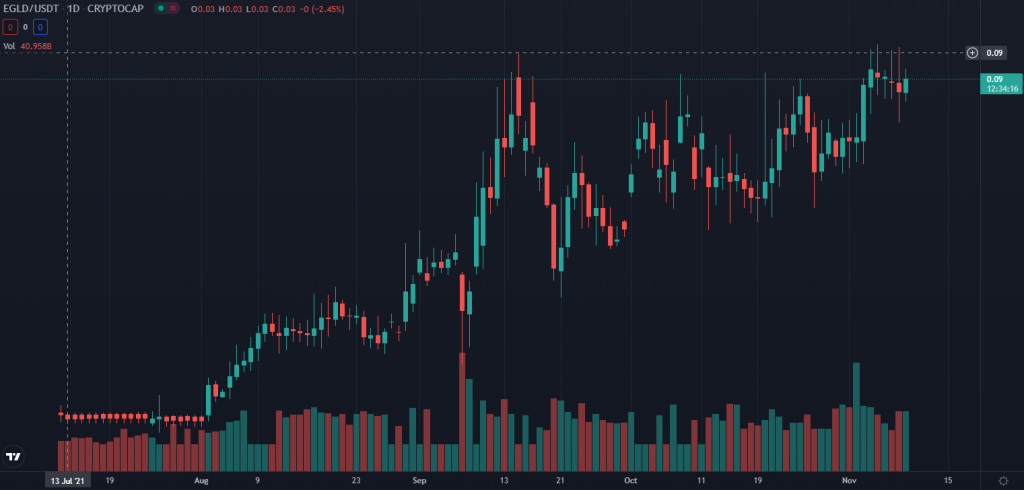 In the H4 charts, we see that the price has broken a bearish high which is also a resistance point. This means that prices have moved from the short term bearish retracement to a bullish bias. Since the main bias is bullish, we expect the volumes to increase. By the end of November, we expect the prices to break some or all of the target points in the price chart.