Dogecoin (DOGE), the original memecoin, was responsible for creating many millionaires while filling the dreams of many others. However, the total number of DOGE millionaires has significantly dropped, according to the data on BitInfoCharts.
The number of Dogecoin millionaires was 1,046 as of November 1. As of December 12, there were 685 DOGE millionaires. This represents a decline of 361 addresses, or 34%, in less than six weeks. According to a breakdown of the millionaires, 80 account for at least $10 million in DOGE, and 605 addresses hold at least $1 million worth of DOGE.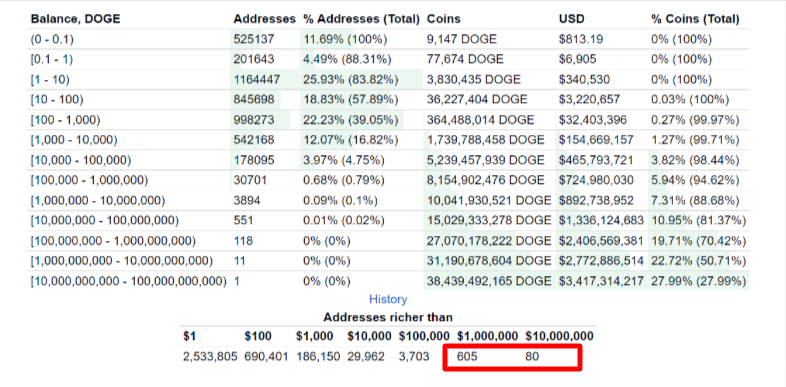 Why are Dogecoin millionaires declining?
DOGE has lost significant value over the year. 2022, in general, has not been a good year for the finance industry. After the summer crash, recent events have proven ill for many crypto projects. First, there was the FTX collapse, which single-handedly brought the crypto industry to its knees. Then there was a Reuters report which claimed that the US Prosecutor's office was considering charging Binance and its management for violating sanctions and money laundering. The news created a lot of FUD, leading to many withdrawing from the exchange.
Furthermore, the upcoming CPI (Consumer Price Index) data from the U.S. Federal Reserve might have played a hand in investors pulling out of DOGE. Although many expect the November inflation data to be lower than before, inflation is still higher than the Fed's target of 2%. Additionally, interest rates are expected to be hiked once again by half basis points.
However, all is not negative for the original memecoin. Elon Musk, the current owner of Twitter and famous DOGE proponent, recently unveiled Twitter 2.0. The upgraded social media platform will also have a payment feature. Many expect Dogecoin to be a part of the new payment feature, as Musk has previously teased such a feature.
At press time, DOGE was trading at $0.090146, up by 1.2% in the last 24 hours.