Off late, Twitter's former CEO Jack Dorsey was increasingly paying a visit to the headlines. His Bitcoin-centric developments have been time and again proving his love for the crypto industry. In a similar attempt to bolster the Bitcoin ecosystem, Dorsey revealed that Block Inc., formerly known as Square was formulating an open Bitcoin mining system.
Back in October 2021, Dorsey took to Twitter and suggested that Square might roll out a Bitcoin mining system based on custom silicon and open source. Individuals, as well as businesses from across the globe, could employ this system. More recently, Thomas Templeton, the general manager for hardware at Block updated the community about the details pertaining to the project.
Affirming that the project was on, Templeton shed light on the imminent process for its launch.
While Bitcoin mining has immense pros, the cons aren't too far off. There have been multiple arguments surrounding BTC mining. Dorsey's latest system hopes to address a few of them.
Elaborating on the vision behind the project, Templeton wrote,
"We want to make mining more distributed and efficient in every way, from buying, to set up, to maintenance, to mining. We're interested because mining goes far beyond creating new bitcoin. We see it as a long-term need for a future that is fully decentralized and permissionless."
Tribulations of the Bitcoin mining industry
When Block dug deep into the issues of the mining community, they discovered certain challenges that could be tackled. Availability has been an avid concern for many. Bitcoin mining rigs are either hard to find or just too expensive. Performance and reliability were reportedly two other issues that the mining community faces. Heat dissipation, as well as dust, could disrupt the performance of the equipment used in the mining process.
The forthcoming system is reportedly being built to combat the aforementioned issues. Templeton's tweet further read,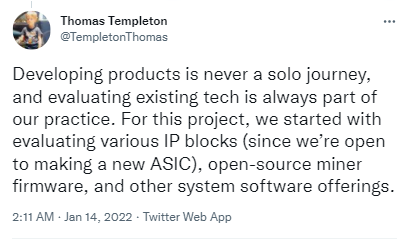 Furthermore, the team already has several members. However, there were a few roles like Electrical Engineers, Analog Designers, and Layout Engineers. vacant in the project.