The Sandbox perhaps last saw dawn when it peaked back in November last year. Since then, the state of its market has been quite dreary. During the year transition phase, it managed to form a cup and handle pattern on its chart, but couldn't pull off a bullish breakout. It instead broke below the lower trend line of the handle and kept stooping lower.
SAND's downtrend, took even more concrete shape during February-March this year. When the broader market started showing signs of recovery, SAND defied its monotonous trend and made headway.
Alas, the jubilation was quite brief, as the token started its consolidation journey right after. Over the past three weeks, The Sandbox has been trading in a tight rangebound zone around the $3 mark.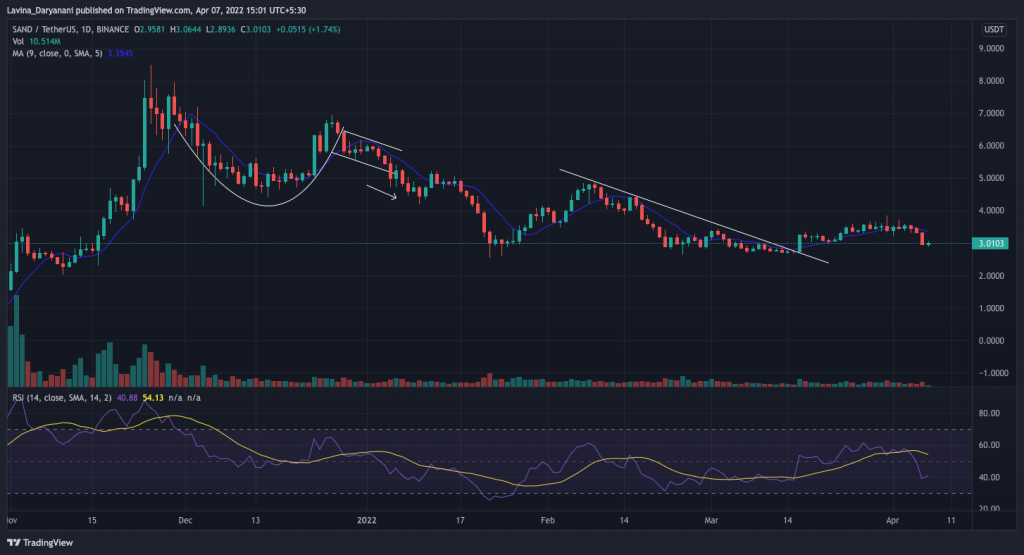 In fact, over the past week, The Sandbox has lost the most value when compared to its other top meta counterparts. What's surprising is that Axie's wounds were less deeper than that of SAND's, despite its latest Ronin hack episode.
After noting a 5% dip on the daily frame, The Sandbox was seen exchanging hands exactly around $3 at the time of press.


Outlining what went wrong for Sandbox and where
Well, it is not that the project's ecosystem has been devoid of partnerships or launches. Back in mid-March, for instance, banking giant HSBC had joined The Sandbox metaverse in a partnership. More recently, Ledger tied up with the gaming/meta platform to provide basic crypto education.
Unlike most project communities, The Sandbox has not been very active on social platforms on a consistent basis. As can clearly be seen from the snapshot attached, the social volume blew up in March. In fact, the new numbers attained were nowhere even close to what was registered during last year's rally phase.
However, within no time, the buzz and euphoria fizzled out, and of late, the cumulative number of mentions associated with SAND is back to double-digit minuscule numbers.

Alongside, the state of the network activity hasn't been up to the mark. Since the beginning of the year, the number of new and active addresses has, undoubtedly, spiked a handful of times, but has deflated immediately in almost all instances. Even at the time of press, the curves of both the metrics were more or less flat.


Thus, transactions not taking place on a consistent basis along with the unstable social sentiment landscape have made things tricky for The Sandbox over the past few months. Only when things are back in tune on the said fronts would SAND be able to pose a recovery.