PancakeSwap (CAKE) has fallen by 24.5% in the weekly charts. Moreover, the token is down by 28% in the last 30 days. The plunge followed the development of a new proposal that could potentially slash CAKE rewards by more than half.
The team has recently released its forked version of Uniswap V3 on Ethereum and Aptos. The core team proposed lowering the token's inflation rate from its current levels of 20% to 3-5%. The number of tokens that project stakeholders could earn would be reduced if the revised plan is approved. According to the proposal, PancakeSwap (CAKE) cannot sustain the present inflation rates over the long term. The proposal stated that "reductions are required for the long-term health of PancakeSwap."
When does PancakeSwap's proposal come into effect?
The proposal is currently being voted upon, which started on April 26 and ends tomorrow. As of now, the community approved an "aggressive reduction" of staking incentives. The result will reduce the number of tokens emitted by more than half. The instant drop in staking rewards has already resulted in an exodus of stakers. However, the lower inflation rate will enhance tokenomics by reducing the dilution of its supply.
Moreover, along with the price of CAKE, the number of CAKE being unstaked has also increased. Since the announcement of the proposal on April 19, the amount of CAKE staked has decreased from 1.007 billion CAKE to 677.851 million.

CAKE currently faces resistance at $2.783, with support at $2.521, in the four-hour chart. PancakeSwap is currently trading at levels last seen in June 2022.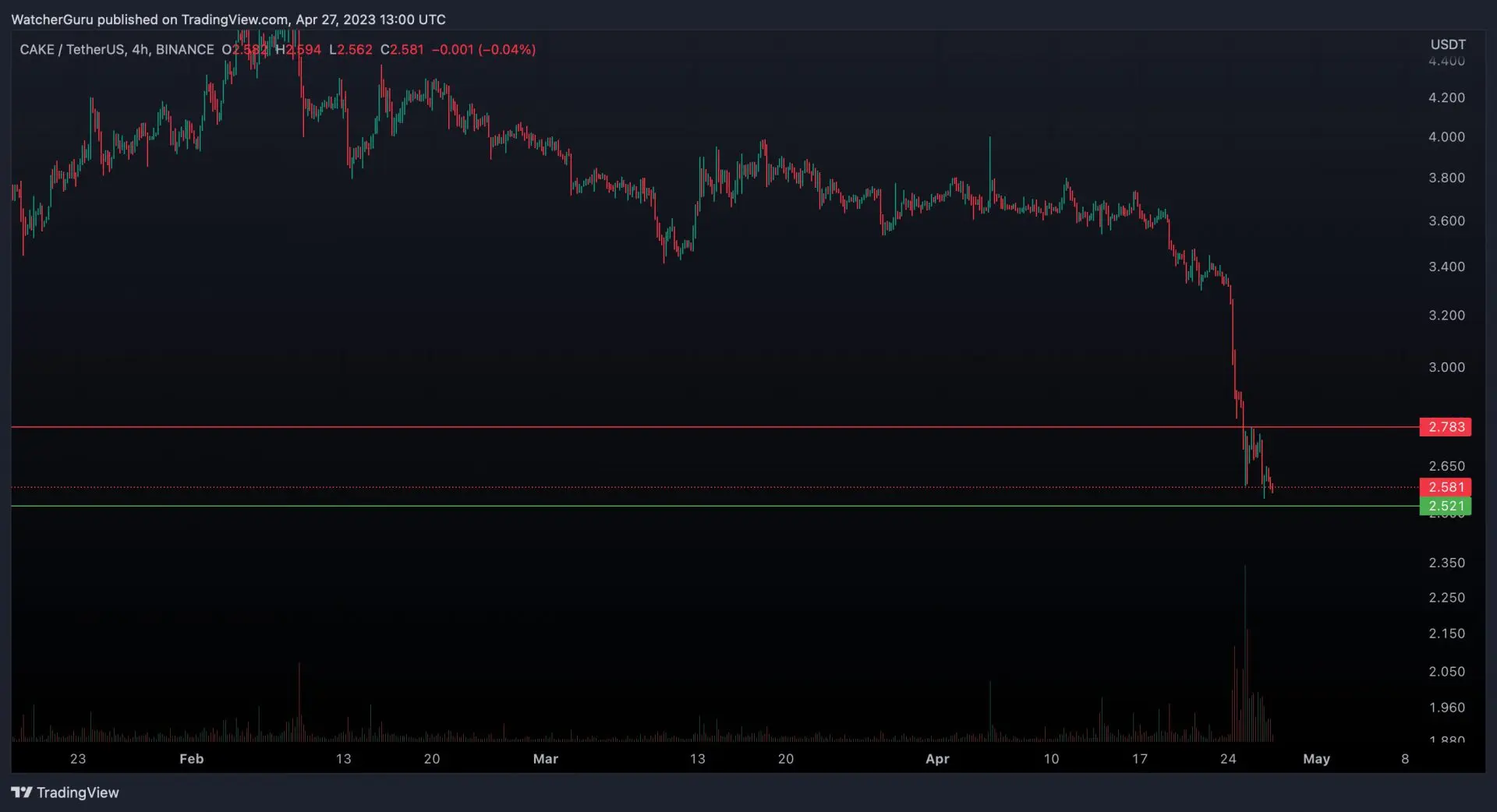 At press time, CAKE was trading at $2.58, down by 5.8% in the last 24 hours. Moreover, CAKE is down by 65.7% in the last year. CAKE is also down by a whopping 94.15% from its all-time high of $43.96, attained in April 2021, almost two years ago.