A new cryptocurrency called Pepe Coin has recently gained attention in the cryptocurrency market and meme coin space. CoinMarketCap data shows that the new meme coin has delivered significant returns to its early investors in just a few days since its launch.
Prominent crypto exchanges, including Binance, also went ahead to list the new meme coin. This has also pushed the community to buy PEPE. Pepe Coin's price experienced a remarkable surge, starting from a low of $0.00000002764 on April 17, 2023, and reaching an all-time high of $0.000004354. However, PEPE has dropped by over 61% since its all-time high, according to CoinMarketCap data.
Also read: Floki Inu Makes Strides with Three Fresh Exchange Listings, Stirring Price Fluctuations
To cash in on the popularity, a new copycat is in town. Dubbed Pepe Coin (PEPE), the new copycat even has the same name, with just the "Coin" alongside. But what's special about the copycat? The PEPE copycat has soared by 128% in the last 24 hours.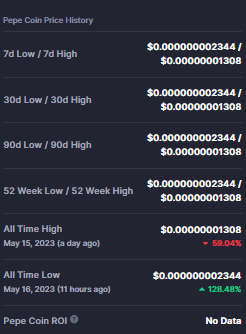 New Pepe Coin copycat soars by 128%
According to the data from CoinMarketCap, the new Pepe Coin has soared by 128% in the last 11 hours. The new copycat was definitely trying to lure investors by confusing them with a similar name.
This pushed the coin's price to an all-time high of $0.00000001308 on May 15. The coin has, however, plummeted by 59% since the 128% rally that pushed the price to an all-time high. At press time, the PEPE copycat is trading at $0.00000000398, with a 55% drop in value.
Also read: Dogecoin Clone Sees 50% Surge Amidst Ongoing Meme Coin Craze

Investors should be cautious while investing money in meme coins, especially copycats. Due to the extreme volatility and possibility of ending up as a rug pull, always do your research before investing in these coins.