A petition to rename the Jazz Arena (Vivint Arena) to SafeMoon Arena has picked up steam on social media. The Jazz Arena is located in Salt Lake City, Utah and SafeMoon is making its headquarters in the same city. The arena serves as a venue for the National Basketball Association (NBA)'s Utah Jazz, and other professional athletic teams.
The petition comes at a time when Crypto.com secured a naming deal for the LA Staples Centre. The deal is a 20-year contract for $700 million. The name change will take effect on Christmas Day when the Lakers host the Brooklyn Nets.
Right after the deal. CRO Coin spiked up close to +24% and attracted heavy buying pressure. The buying pressure was so huge that the coin made it to the top 20 cryptocurrencies by market value. It also reached an all time high (ATH) of $0.96 on November 24, 2021 and began a downward trend.
"This partnership is about the future. AEG and Crypto.com not only share a vision about innovation and the future of sports and entertainment, but we also have a shared commitment to our communities where we work and live. We look forward to partnering with Crypto.com to create meaningful initiatives to bring that vision to life in the years to come," said Dan Beckerman, the President and CEO of AEG.
Will It Really Be Renamed SafeMoon Arena?
The petition on change.org is asking signatures of 2,500 people to get it picked up by the local news media. The petition has already received 1,789 signatures up until the time of publishing. A statement in the petition reads that Jazz Arena should be renamed as SafeMoon Arena. This is because it brings an opportunity to introduce people to cryptocurrency.
"Since SafeMoon is making Utah it's base of future operations with the SafeMoon HQ, we think it is a good idea to petition for a formal name change of Vivint Arena to SafeMoon arena. Inspired by the recent Crypto.com renaming of The STAPLES Center to "Crypto.com Arena" the SafeMoon Arena would be an amazing opportunity to bring Crypto to all Utah Jazz fans. If you think this concept idea is cool please show your support by signing and sharing this petition," the petition read.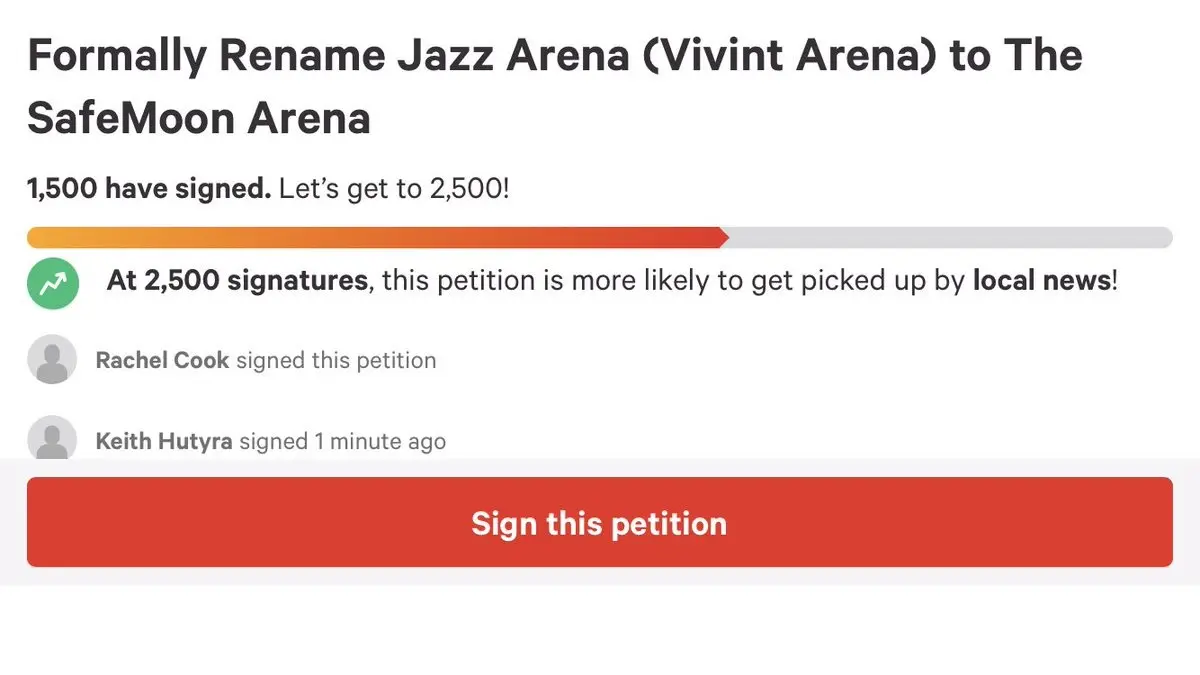 However, many on social media doubted the real cause and found it to be unrealistic and baseless. "Although this would be nice, this isn't how an arena gets its name. SafeMoon would have to buy the rights to name it SafeMoon Arena. So they would have to pay millions for naming rights not to mention millions to pay off Vivint to remove their name," commented a user.
SafeMoon at the time of publishing was trading at $0.00000290 and is down -5.7% in the days trade.