Q4 has seldom been dull for cryptos. In most instances in the past, the market has rallied as a whole in this quarter. With the same to commence in a couple of days, the market sentiment has gradually started shifting. With Bitcoin and Ethereum clinging onto $19.4k and $1.3k respectively, top alts started trading in green over the past day. Polygon's native token MATIC rose by 3.6% in the past 24 hours and it was priced at $0.7716 at press time.
Several projects have been tapping onto Polygon of late. This week, Robinhood launched its beta web3 crypto wallet app, with support for Polygon as its first network. Another project, SynFutures, is also lined up to launch its V2 mainnet on Polygon soon.
Alongside, Polygon has also integrated Push Protocol [previously known as Ethereum Push Notification Service] to enable web-3 native communication to its native apps and active users. Despite the afore-highlighted developments, however, MATIC's price has not noted any abnormal rally.
Polygon [MATIC] price
On the price front, Polygon's native token has been rejected a number of times this week at around $0.780. On Friday, however, it was seen grappling with last week's resistance at $0.7729.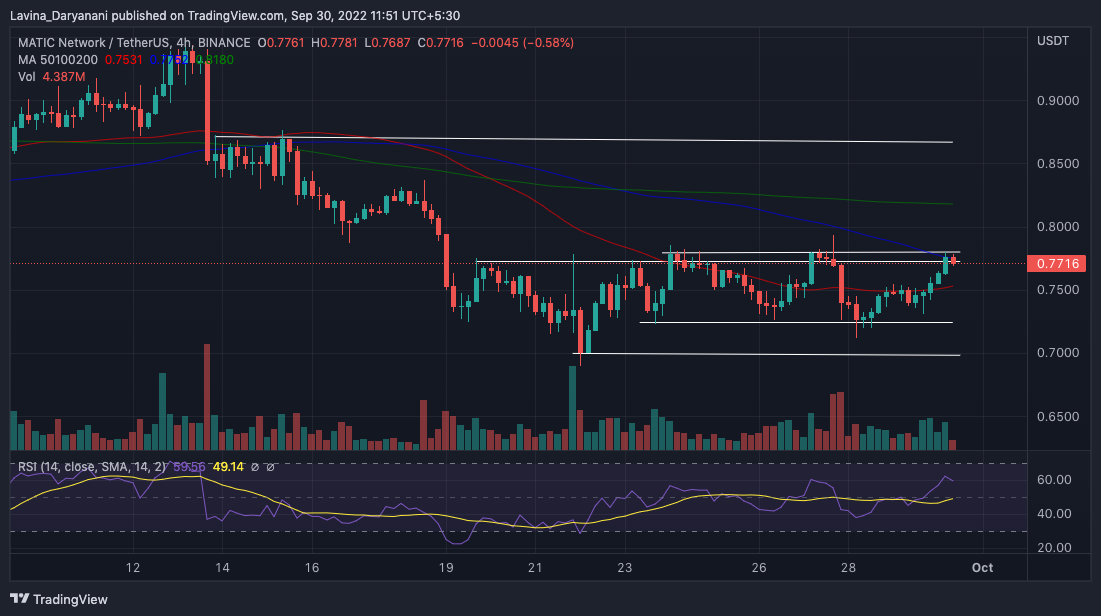 At press time, the MATIC market was void of bullish momentum, for sellers were seeing dominating the market. Leaving aside the 10-minute window, the difference between the buyer and seller trades was all in red, adding more weight to the said narrative.
If the said state persists, then MATIC could slip down to its 4-hour 50 MA [red] over the next few trading sessions. Thereon, if bears continue having an upper hand, $0.72 and $0.69 will come into play.

During the weekend, if Bitcoin and the broader market pose a concrete recovery, then MATIC can be expected to trail along. But for that, the token will have to break through its immediate resistance as highlighted above. Resultantly, in an upside event, traders can expect MATIC to first attain $0.818 [green] before propelling towards $0.867.