Near protocol's native token has consistently been making northwards strides on the price front for over a month now. In mid-march, NEAR was valued under $10, but now it has already surpassed the $19 threshold.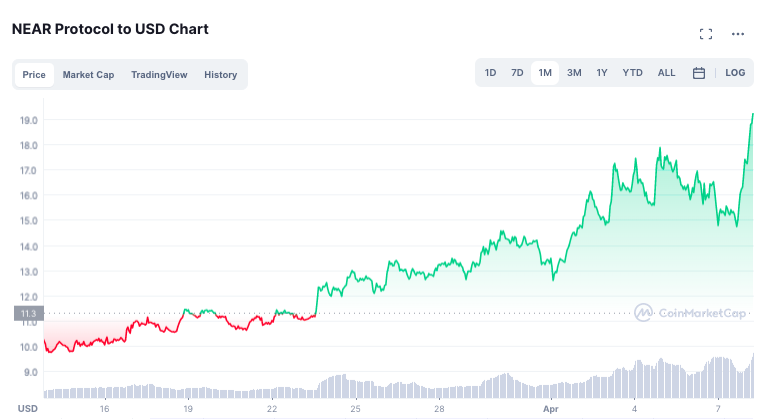 3 major catalysts that triggered's Near's rally
The pace of its rise has augmented over the past week. A host of factors have propelled the same.
For instance, on the news of the protocol raising $350 million in a funding round led by hedge fund Tiger Global earlier this week, the native token gradually started reacting on the charts.
A couple of other revelations made over the past day served like oil to Near's already burning fire. One such major announcement was the proclamation of the tentative launch of its native stablecoin. With respect to the same, Crypto Insiders' founder Zoran Kole's substack noted,
"On April 20th, Near will announce the launch of their own native algorithmic stablecoin $USN in partnership with other well capitalized stablecoins. They will offer an extremely attractive ~20% APR, which will ignite DeFi capital rotation into the Near ecosystem, siphoning the total value locked from other alternative layer-one protocols."
Kole additionally hinted at an upcoming Coinbase listing and the potential integration of NFTs on Coinbase's upcoming marketplace. He noted,
"Moreover, Near will be listed on Coinbase's exchange in the next couple of months, which will help drive retail visibility like never before. This also paves the way for Near NFTs to be integrated into Coinbase's upcoming NFT marketplace."
The "shock" and "dismay" connotation
In effect, unlike other tokens from the market, this token's RoI was dark in green at the time of press. After notching up by 28% and 48% on the daily and weekly timeframes, the token was seen exchanging hands at $19.56, quite close to its $20.59 ATH, at the time of press.

What's more, per Kole, the token would decouple even further in weeks to come and the same would be observed with "shock" and "dismay." Well, only time can tell if Kole's bold assertion materializes over the mid-term or not.