Ethereum's network is set to undergo its much-anticipated network upgrade, The Merge, by either 15 or 16 September. Post that, the network's consensus mechanism will shift to proof of stake, and miners will become irrelevant.
Read More: Mark your calendars: Ethereum Merge is happening on…
ETC Hashrate claims ATH: Joining the dots
A day back, the Ethereum Classic network claimed an ATH of 38.07 TH/s on the hashrate front. As illustrated below, Ethereum Classic's hashrate was mostly consolidating over the past few months. However, data from COINWARZ revealed that the tables were turned on 18 August.
Since the aforementioned date, a couple of spikes have been noted, and resultantly, ETC's hashrate managed to attain the ATH feat. At press time also, the rate was hovering around the highs at 37.3 TH/s.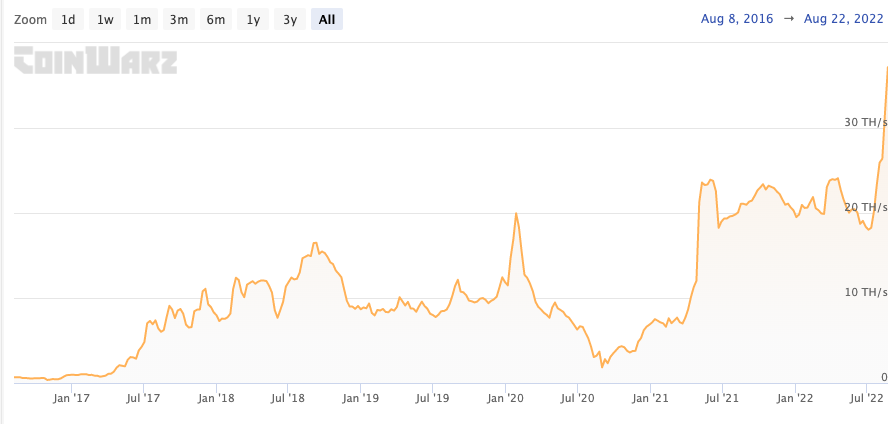 Simply put, a high hashrate means more mining power is being added onto the network. Thus, it can be speculated that Ethereum Classic has already started accommodating miners who are fleeing from the Ethereum network ahead of The Merge.
Is Ethereum Classic the go-to network?
ETC, as such, is a forked variant of ETH. And thus, the inherent properties of both networks are fairly congruent. So, if miners migrate to Ethereum Classic, there will not be much of a hassle. Chalking out the same, one of Ethereum Classic's blogposts highlighted,
"As Ethereum Classic's hashing algorithm is almost identical to ETHash, so it supports the same hardware, and mining ETC should be as simple switching to a mining pool that supports ETC."
In fact, in the same post, it was also highlighted that ETC has a "long-term commitment" with the proof of work consensus mechanism. This means that the network will continue to be a safe harbor for miners.
As far as the profitability aspect is concerned, ETC evidently stands below ETH. The same is illustrated below in the second last column. However, once The Merge is executed, miner profitability will become null and void for the OG network, and ETC's appeal will likely rise.