Since its launch last April, Bored Ape Yacht Club has quickly found its feet and established a niche in the NFT industry. In terms of volume settled, the collection continues to lead the pack. Over the past 7-days, BAYC has paid 12 million ETH in sales. For instance, other collections like CryptoPunks and Moonbirds stood lower on the volume ranking chart, depicting figures of 6.9 million ETH and 3.2 million ETH, respectively.
In the latest development, Yuga Labs has been blamed for "inappropriately" inducing its investors to buy its NTFs. Alongside, claims have also been made that they extended the same strategy to lure ApeCoin buyers.
Law firm Scott+Scott has initiated a lawsuit against the parent company of Bored Ape Yacht Club, alleging that Yuga Labs took undue advantage of "unsuspecting investors" by using tactics like celebrity promotions. Scott + Scott's official document noted,
"The YUGA LABS leadership used celebrity promoters and endorsements to inflate the price of the company's NFTs and token, by generally promoted the growth prospects and change for huge returns on investment to unsuspecting investors."
Bored Ape Yacht Club's sib, ApeCoin, dragged into picture too
Yuga Labs launched its native Ethereum-based crypto ApeCoin back in mid-March this year. The launch was pretty successful, and by the end of April, the token acclaimed new highs of $26. Since then, however, it has only deflated in value and currently stands at $6.2.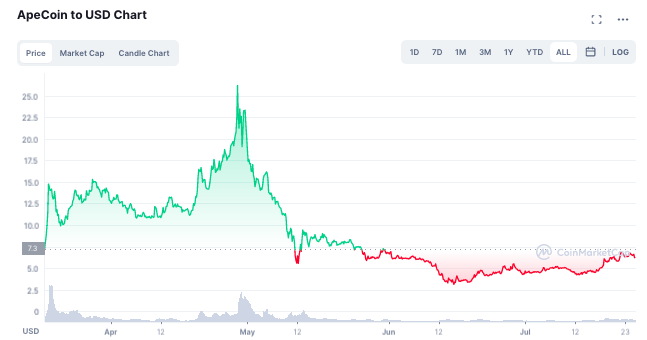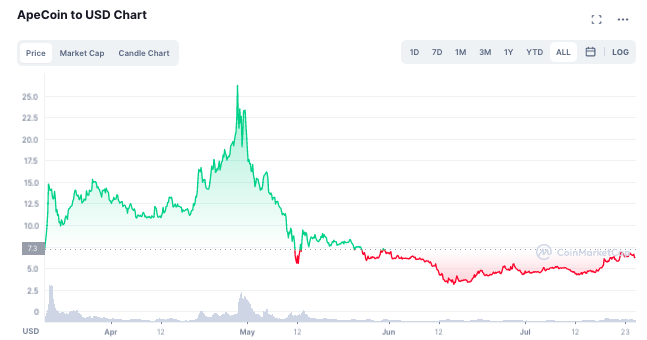 Using the same downtrend argument, the law firm further contended that the company launched ApeCoin to "fleece" investors. It also blamed that the growth of both the projects—BAYC and ApeCoin—were solely due to promotion and that they were actual utility deficient.
"After selling off millions of dollars of fraudulently promoted NFTs, YUGA LABS launched the Ape Coin to further fleece investors. Once it was revealed that the touted growth was entirely dependent on continued promotion (as opposed to actual utility or underlying technology) retail investors were left with tokens that had lost over 87% from the inflated price high on April 28, 2022."
The law firm has encouraged participants affected by losses between April 2022 and June 2022 to stand up.
However, people from the community remained on Bored Ape Yacht Club's side and labeled the case as "pure garbage." In fact, users have been quick to shuffle cards and state that a bunch of people who bought ApeCoin at the top and "got rekt" are "mad" and have initiated the lawsuit.
Despite the lawsuit sourness, there are high chances of BAYC sales picking up this week. Ethereum gas fee has been hovering around its yearly lows. Collectors usually view such occasions as a golden chance to stock up and replenish their HODLings.
Also Read – Apecoin: Are HODLers really placing big bets on the token?