Blockchain payments firm Ripple was in the news yesterday after it announced a $200 million Series C share buyback. With this buyback, the San Francisco-based tech firm's valuation has soared to $15 billion.
In December 2019, the firm had raised a funding round led by UK-based investment firm, Tetragon Financial Group alongside SBI Holdings and Route 66 Ventures. Back at that time, XRP was valued at around $0.18-$0.19.
READ ALSO: Ripple's CEO, Brad Garlinghouse, Shares His Opinion on Dogecoin
From then till now, over the course of 25 months, Ripple has tremendously grown. It tied up with a host of new companies and started imposing its dominance in the Asian markets. In fact, even RippleNet's user-base has significantly expanded, with Ripple's quarterly ODL sales swelling up.
Thus, with Ripple's performance being impressive, the move to buy back shares was not something that was unusual or surprising. Stock buybacks are usually tricky, but as far as Ripple is concerned, it looks like the company is seeking to augment its financial strength.
In fact, the company's current CEO Brad Garlinghouse highlighted Ripple's ambitious vision for this year. He specifically pointed out that they wouldn't "slow down" and Ripple's financial position has never been this strong before.
Needless to say, the XRP Army reacted quite positively to the said development. Even though the same did not translate to a price pump, XRP has quite successfully been able to keep its losses under control. For context – XRP was down by merely 2% in the day's trade, while other top alts including SOL, DOT, AVAX, and LUNA had registered 7% dips each.
READ ALSO: South Korea and U.S. join hands to recover lost crypto funds from 2017
Interestingly, the market sentiment for XRP has been more inclined to bulls over the past week. On Bitrue alone, for instance, 91% of the traders have been long or XRP, implying that they expect its price to take off soon.
What about fundamentals?
XRP's network-activity pace has reached new highs of late. Consider this – the active address count peaked at a new high of 240,000 yesterday. Last year this day, the same merely reflected a value of 11k.
The snapshot attached below clearly highlights how the XRP's blockchain activity has picked up the pace and has started making rapid strides since the beginning of this year.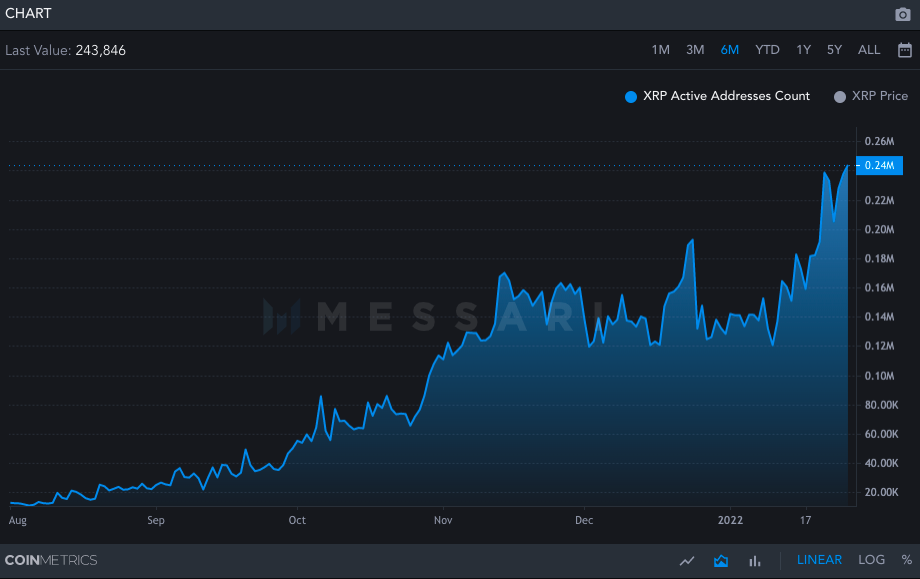 Parallelly, most major Ripple ODL corridors have quite high liquidity indexes at this point. For XRP/EUR, the LI remained negative until September. It slowly started improving during the last few months and is currently hovering around 5.196 million.
Liquidity on the XRP/MXN corridors on Bitso exchange too has been able to maintain its consistent positive trend.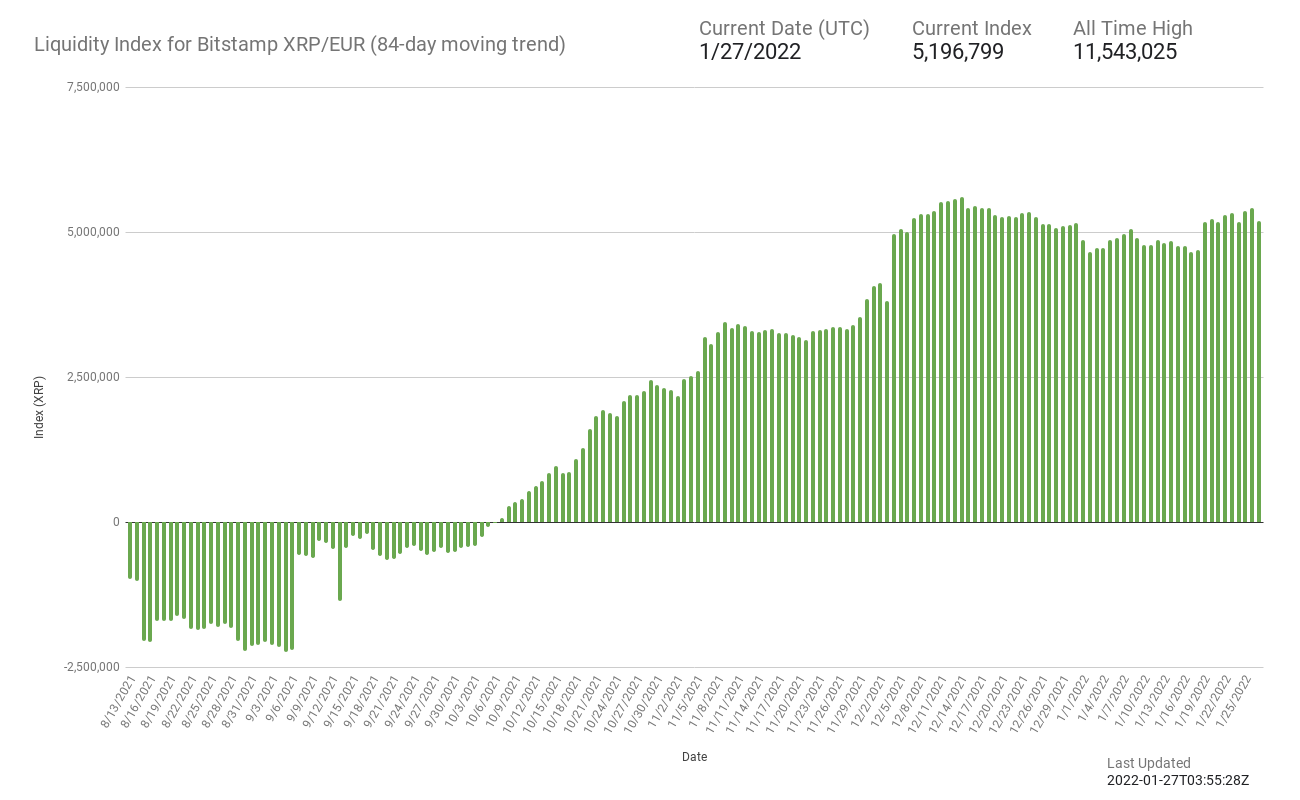 Additionally, at the time of this analysis, XRP was the fourth most active chain, after Bitcoin, Ethereum, and Cardano, as per Messari's on-chain data. It had facilitated $8.35 billion in adjusted transactions over the past 24 hours.
READ ALSO: Why is XRP Waxing Strong Despite the SEC Suit?
All the aforementioned liquidity and on-chain activity datasets collectively point towards one thing – XRP's strong fundamentals. In the recent past, a host of tokens belonging to projects with strong utility have embarked on rallies. With things looking all aligned for XRP, it could become the next token to take off.
Also, even though there are growing fears of another market slump that has the potential to push companies down for a rougher side, Ripple should be able to tread through without much of a hindrance, given its current financial position.