Ripple's native token, XRP, is one of the few cryptos that did not claim a new all-time high when the market rallied in 2021. It did climb up on the charts but it wasn't able to re-clinch its peak. XRP went on to attain its ATH in early 2018. At that time, the valuation of the asset climbed up to a level as high as $3.3.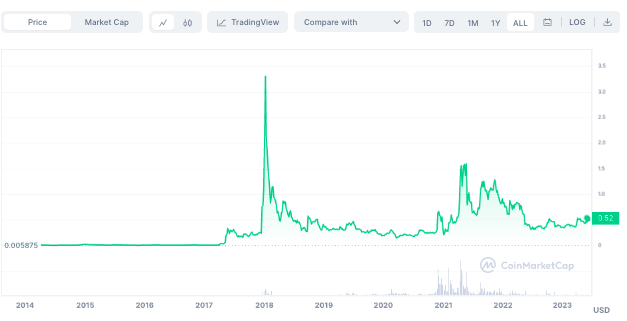 XRP has been rallying over the past few days. As analyzed in an article a day back, the asset is already up by 21% when compared to its recent low of $0.41. Market participants have remained positive. In fact, the recent streak of green candles on XRP's daily chart is a testament to the optimistic sentiment. That being said, the latest uptick is merely a drop in the ocean. According to data from Messari, XRP is down by more than 84% from its $3.3 high.

Also Read: Ripple Partner Ties Up With UAE's Al Ansari: IPO Soon?
Is Mega Pump in the Making for XRP?
Chartist 'JD' recently took to Twitter to bring to light an interesting XRP break-out, similar to what was observed in 2017. Elaborating on the same, he tweeted,
"XRP – We just Broke a 2year trendline!"
The last time when such a break-out transpired, XRP rallied by leaps and bounds. According to JD,
"In 2017, after a CONFIRMED breakout of 2 year trendline, we did a 504x in 1-year!"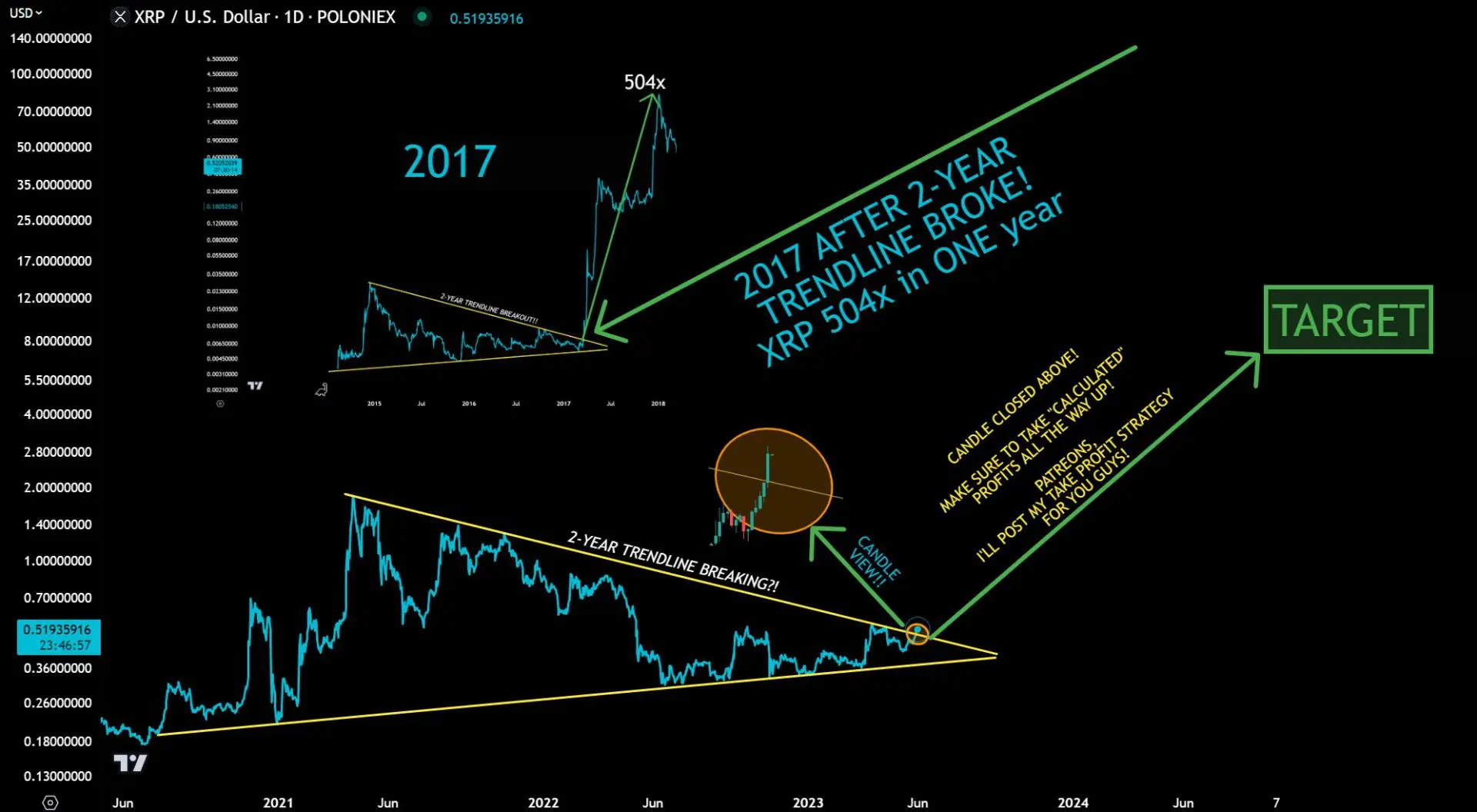 Well, XRP is currently trading at $0.5151. A 504x surge at this stage would put its price at $259.6, which seems to be highly unrealistic.
Post 2018, the market has seen a couple of major bull runs. XRP did not re-claim its previous high on either occasion. XRP has decoupled from the broader market at this stage, but it doesn't warrant a mega pump. Only something extra-ordinary, like Ripple going public or a victory in its legal case against the SEC, has the potential to open the doors for an exponential XRP rally. Even in such cases, the Altcoin will have to attain $3.3 first, before marching beyond to a double or triple-digit valuation.
It's important for readers to note that traders usually come up with highly bullish predictions whenever the price of assets starts rising. History has undoubtedly repeated itself several times in the past, however, it should be borne in mind that macro-long-term predictions are never really precise. Thus, it's critical to focus on the short term instead of getting carried away by the bullish wave.
Also Read: Ripple: XRP Up 21%, Decouples from Altcoins