Blockchain payments company Ripple recently released its quarterly XRP Markets Report. The same shed light on XRP sales and other developments that took place within the Ripple ecosystem over the past quarter.
Via various partnerships, Ripple was able to scale up its ODL product. The report highlighted that Ripple's crypto-powered payment solution is today available in nearly 40 payout markets. For context, it was just available in three markets in 2020. 
Furthermore, Ripple fostered around $30 billion worth of volume and 20 million transactions since RippleNet was launched. Last year, roughly 3 out of 5 payments were sent via ODL. Highlighting the latest numbers, the report noted,
"Last quarter, total XRP sales by Ripple, net of purchases, were $226.31M vs. $310.68M in the previous quarter."
Also Read: Ripple notes 'record' ODL growth in 2022: Further expansion expected
Another data set that stood out in the report was the on-chain activity on the XRPL. Albeit the sluggish conditions, activity remained "relatively buoyant." The number of transactions on the ledger increased by over three million to 106 million.
The same was mainly instigated by NFT activity. Worth recalling is that the XLS-20 amendment was green-lit in Nov. 2022, opening the doors for NFTs in the Ripple ecosystem. Alongside, around 228,000 new and unique user wallets were created on the ledger last quarter.


Was winter too harsh for XRP?
Every rose has its thorn, right? Even though Ripple made significant progress on multiple fronts, it couldn't shield itself from winter. As far as XRP spot market transactions are concerned, the report noted that the market succumbed to the general downtrend. The average daily volume currently stands at roughly $700 million, down from $1.1 billion in Q1 2022.
As a result, XRP welcomed the new year with an 11% decline by registering a long red wick on its price chart. Now, however, the situation seems to be much better. From 2023's lowest point, XRP has already inclined by 34%. At press time on Wednesday, it was trading at $0.4033.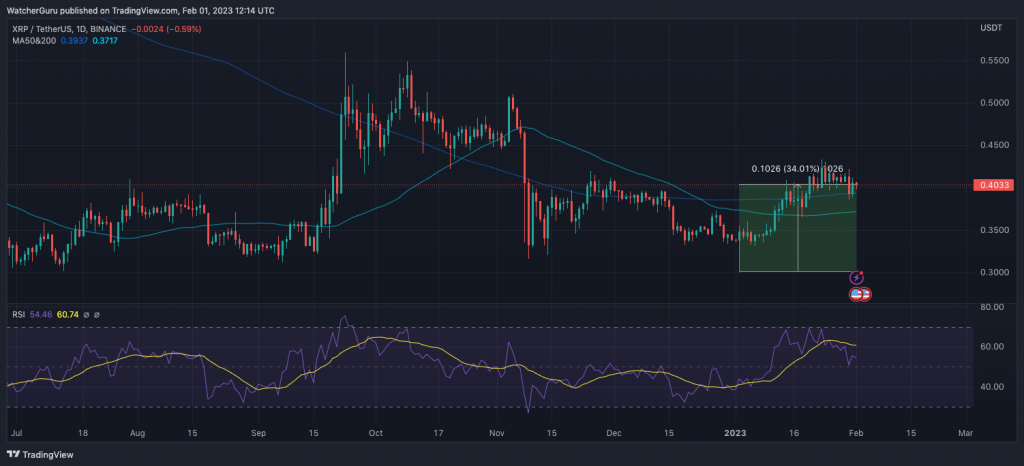 Read More: XRP Starts Off 2023 With A 11% 'Bang'