The payments ecosystem was one of the key sub-sectors within the crypto economy that was impacted by the shutdown of banks. On one hand, firms had to bear the severity of the choppy market conditions. Wyre wound up its business after nearly a decade, in June 2023, citing market conditions. However, the ones existing seem to have their bases covered. Crypto payments ecosystem CoinsPaid, for instance, has been registering growth in activity.
According to exclusive data shared with Watcher Guru, CoinsPaid reported a 216% growth in the number of transactions between the spring of 2021 and 2023. Parallelly, it registered a 232% increase in volume during the same period.
Payments and Ripple
Payment transactions have also been having a profound impact on the Ripple ecosystem. As depicted below, every spike registered by payment transactions has been complimented with a corresponding spike in address activity on the XRP Ledger [XRPL]. However, 'received' transactions have been having more weightage than the 'send' ones.
A recent Messari report pointed out that in just a single day towards the end of May, "about 523,000 addresses received a transaction." Notably, that was around 11 times the daily average in Q2. In fact, it was also the "second-largest address activity day of all time."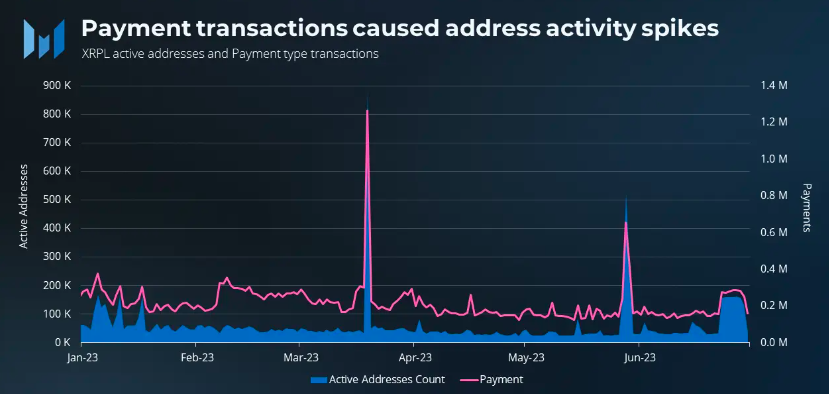 Also Read: 93% of Banks Working on CBDCs: India, EU, UK, Intently Exploring
In fact, out of the total 53,990 addresses active during the second quarter, 45,846 of them received XRP, while the remaining 12,778 only sent out tokens. Well, the gap between the active recipient and sender addresses can largely be attributed to centralized exchanges. Alongside, custodians using 'destination tags' to send payment transactions have also had a role to play. Elaborating on the same, the report noted,
"Users typically prefer creating wallets on centralized solutions for easy access to the initial XRP required to create a self-custody wallet. After acquiring their initial XRP, many users withdraw to their self-custody wallets, resulting in fewer active senders and many active receivers."
As a whole, the Ripple ecosystem registered a fairly mixed quarter. While the total addresses were refined when compared to the previous quarter, the number of new addresses created dipped slightly. This was parallelly accompanied by a large spike in the number of deleted addresses.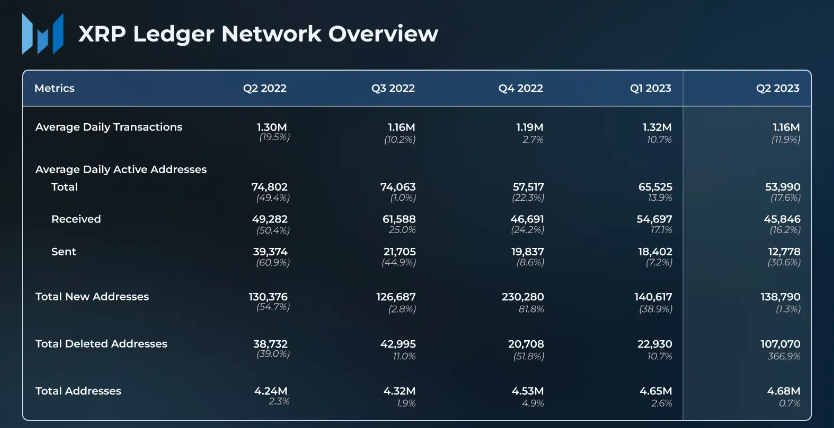 Also Read: China Inflation Eases to 0%: U.S. Dollar Rises, Yuan Dips