The CEO of SafeMoon John Karony could be nominated for the Utah Business 'CEO of the Year Awards' 2022. The nominations for the awards are currently open and users can submit their favourite CEO as 'nominations'.
The higher the amount of nominations a CEO receives, the better chances of him/her getting nominated for the prestigious award.
In addition, Youtuber Scott Paul urged the SafeMoon army to band together and nominate John Karony for the award.
"Let's get @CptHodl another award! There is no way any other CEO can get as many votes as John can with the #SAFEMOONARMY at his side. Very curious to see if popular vote wins here or if it's a committee that chooses. @UtahBusiness please let us know?" he tweeted.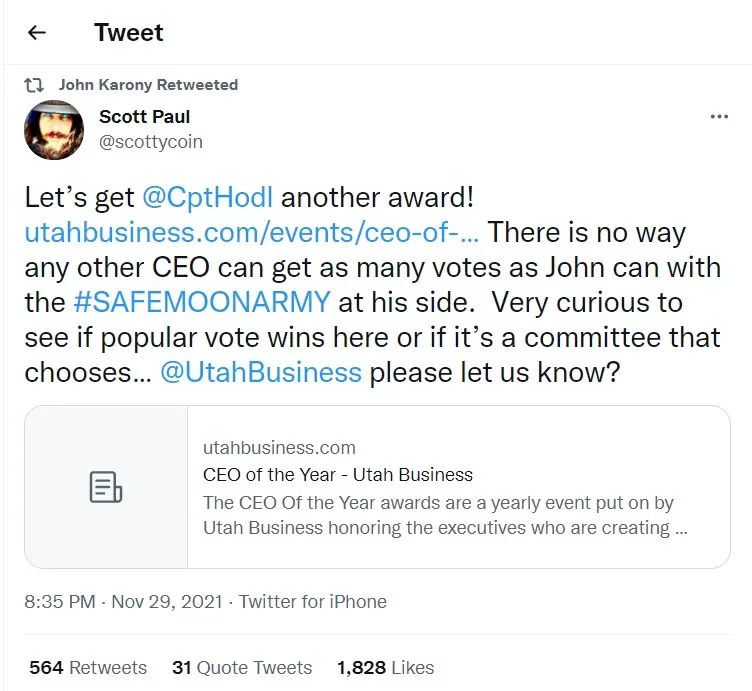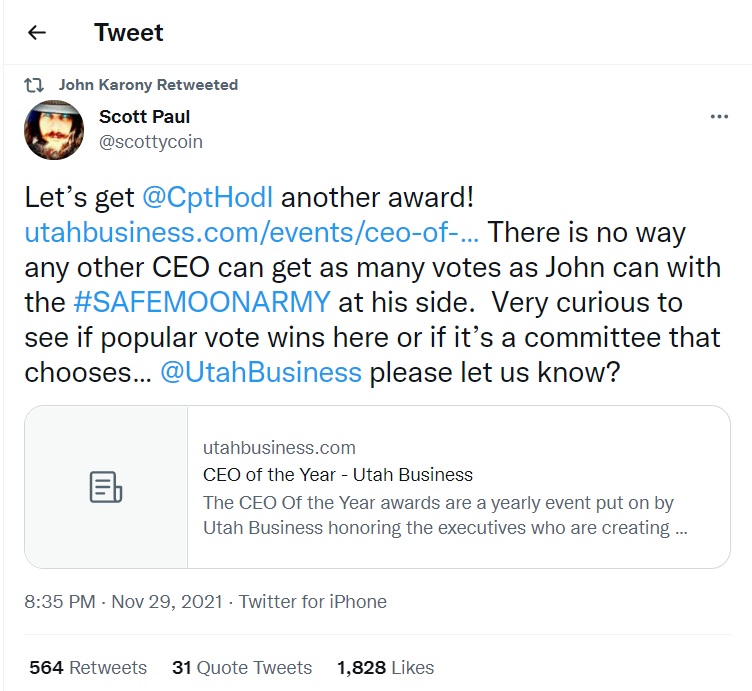 Also, Karony retweeted Paul's message urging the SafeMoon army to nominate him for the 'CEO of the year' Award. Utah Business is a magazine that highlights entrepreneurs, business leaders and companies that creates solutions to to the business challenges.
"Utah Business is proud to present the 2022 CEO of the Year Awards. This event honors those chief executive officers who have led their organizations with strength, courage, and endurance and have made it their mission to change the way we do business in Utah. Sponsorship opportunities are still available for organizations wishing to get in front of this unique group of individuals. Contact Lynnette Cloward at 801-839-1411 or [email protected] for more information," a statement on their nominations page read.
Their website consists of a nomination form and users can fill the details of their preferred CEO. "Nominations for 2022 are accepted now – December 10th. Fill out the form below to submit a nomination," the page read.
Moreover, SafeMoon is nearing the 3 million holders mark and if the army bands together, Karony can bag the nomination.
John Karony Steers SafeMoon out of Troubled Waters
John Karony had difficult months during SafeMoon's initial days and received criticisms for mismanagement. The delay in releasing the SafeMoon Wallet made him face a lot of brickbats. Since then, the top management has seen a lot of changes with firings and hiring's.
Not only did Karony launch the SafeMoon Wallet two weeks later, he's also overseeing the launch of V2. He has steered SafeMoon from troubled waters and got it to a point of safety. Just recently, he bagged the AIBC 'Community of Year Award 2022' in Malta and came out on top.
At the time of publishing, SafeMoon was trading at $0.00000240 and is down -4.3% in the days trade.