SafeMoon has won the AIBC 'Crypto Community of the Year' 2021 Award held in Malta. CEO John Karony walked up on stage to collect the prestigious award. Karony shared a picture on his Twitter handle proudly holding the award. He captioned it, "We won Crypto Community of the Year at AIBC in Malta!!! Best award of them all. #SAFEMOON is the #Evolution!"
Even SafeMoon's official Twitter handle proudly proclaimed, "The winner is… and always will be… THE #SAFEMOONARMY." John Karony has navigated the coin out of troubled waters and could make it sail to a new glorious future.
SafeMoon is undoubtedly the 'talk of the town' cryptocurrency in the market and everyone wants a slice of its cake. The coin boasts of 2.9 million holders and the numbers are only increasing by the day. As per the current pace, the number of holders can breach the 3 million mark by the end of 2021.
The token also breached 1.2 million followers on Twitter and the numbers are increasing each day. It is the 7th most followed cryptocurrency on Twitter and shares the stage with Bitcoin, Ethereum among others.
All this is achieved in less than eight months of its inception and the token has a long way to go. SafeMoon was launched in March 2021.
SafeMoon: With Fame Comes 'Copycats'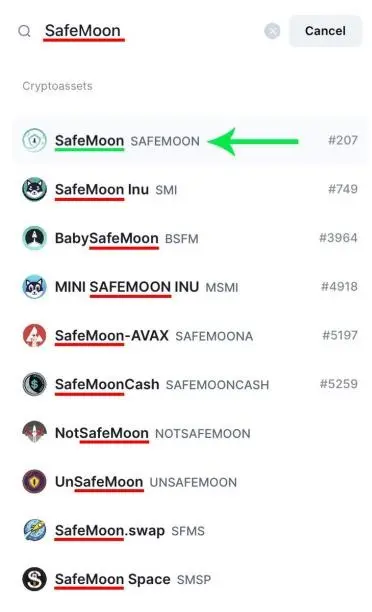 While SafeMoon is growing by the day, its fame has attracted clones who want to piggyback on the coins fame. A simple search for 'SafeMoon' in any crypto website shows there are more than 10 similar coins copying its name. Also, the original SafeMoon is not associated in anyway with the copycats out in the market. While the real will stay for the longer term, the copycats will perish over time.
From SafeMoon Inu to Baby SafeMoon to Mini SafeMoon Inu, the list seems to be endless. However, none of these coins have the potential to be the 'next big thing'. There's no guarantee they would even exist in then next five years. Most of them can also end up being rug pulled by the developers.
At the time of publishing, SafeMoon was trading at $0.00000332 and is down -0.3% in the 24-hours day trade. The coin has a market cap of $1.9 billion with a 24-hour trading volume of 10.9 million. In its previous 30-trading days, the coin was up +85.3% but is down -16.0% in the last 7-trading days.