SafeMoon V2 is expected to continue trading within a descending wedge and inch closer to a breakout over the next few days. Traders can long SFM once a new low is formed at $0.002621 and cash out once the breakout target is met at $0.0029982. If timed correctly, investors can bag a profit between 8%-10% on the pattern.
SafeMoon Hourly Time Frame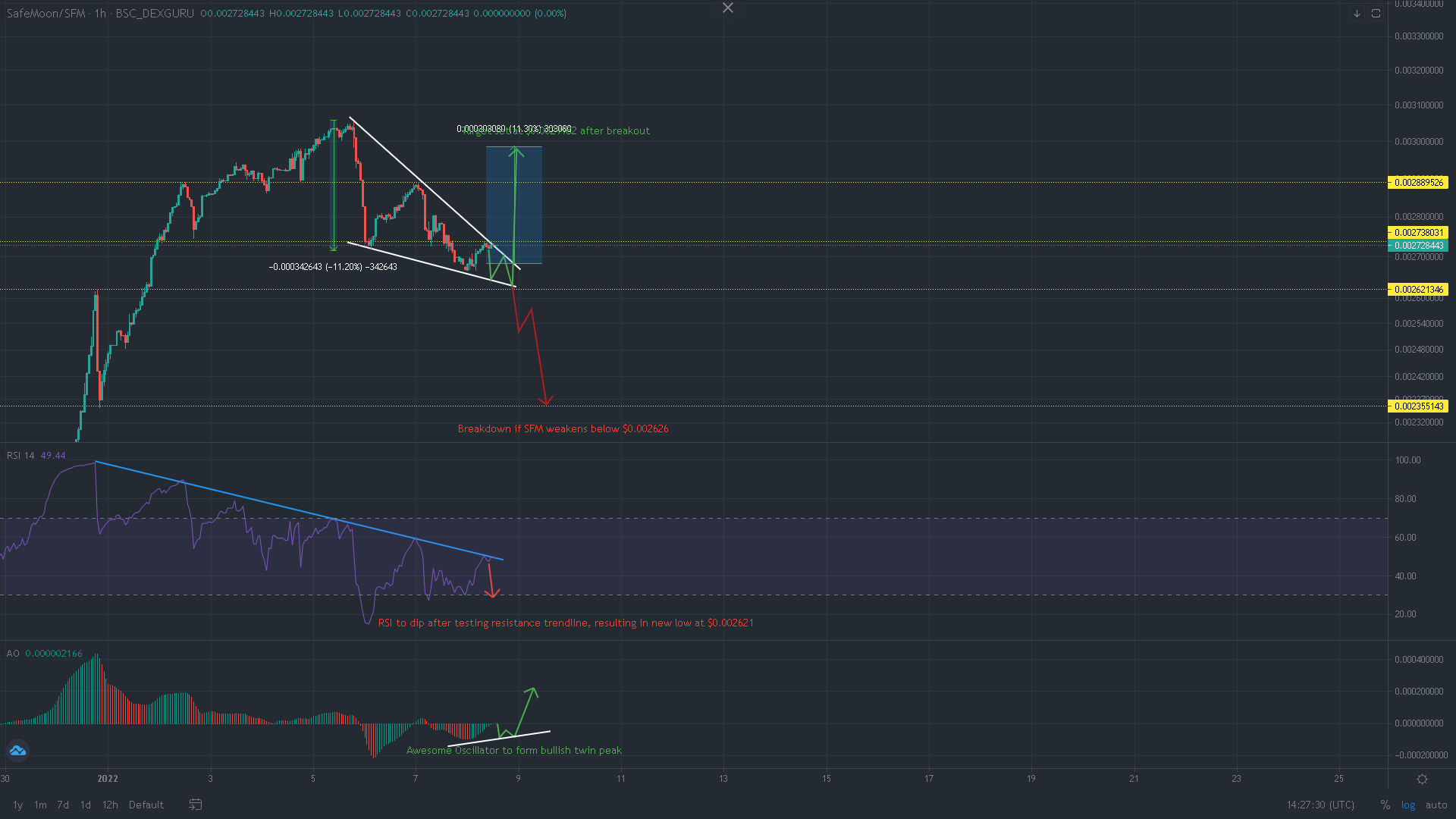 SafeMoon V2 has registered two distinct lower highs and two lower lows after recording an 85% surge between 29 December and 5 January. Two trendline plotted along these highs and lows gave rise to a descending wedge on SFM's 4-hour time frame. The pattern is considered bullish and usually sees an upwards breakout after the end of a consolidation phase.
Now, before SFM enters this final phase, the price was expected to form a new low at the bottom trendline and $0.002621-support. This was due to SFM's RSI, which was expected to dip after testing a resistance trendline.
Once the wedge is complete, bulls would have to force a close above $0.002740 to trigger the breakout. Based on the height of the wedge, a 10% hike from the breakout point would push SFM's price back to the target at $0.0029982
Meanwhile, a close below $0.002621 can result in a breakdown. Such an outcome could see SFM extend losses till its closes defense at $0.002355.
Indicators
As mentioned earlier, SFM's RSI could see a minor pullback after trading close its resistance trendline. A recovery would follow once the RSI tags the oversold region.
Bearish tendencies along the RSI could also spill over onto the Awesome Oscillator. The index could see another dip before advancing above the half-line. A bullish twin peak setup would come to light If the index maintains its streak of higher lows after the dip.
Conclusion
SFM would form a new low at $0.002621 and trade within its wedge over the near-term. Once the pattern is complete, SFM was expected to surge north and register a 10% hike from the breakout point. Safe buy orders can be placed once the price closes above $0.002738 while riskier bets can be placed at $0.002621 support.