Top Dogecoin influencer Matt Wallace held a Twitter poll asking followers 'What currency is going to the moon?' The poll had Dogecoin, Shiba Inu, SafeMoon, and BabyDoge Coin as contenders. It was expected that Doge could win the poll hands down, but surprisingly, SafeMoon took the top spot leaving Dogecoin in second place.
While SafeMoon won with 38.4% of the votes, Dogecoin came a distant second at 24%. Shiba Inu took the third spot at 21.1% while BabyDoge Coin came last at 16.5%.
However, screenshots of Matt Wallace accusing SafeMoon of using bots to win the poll is doing the rounds online.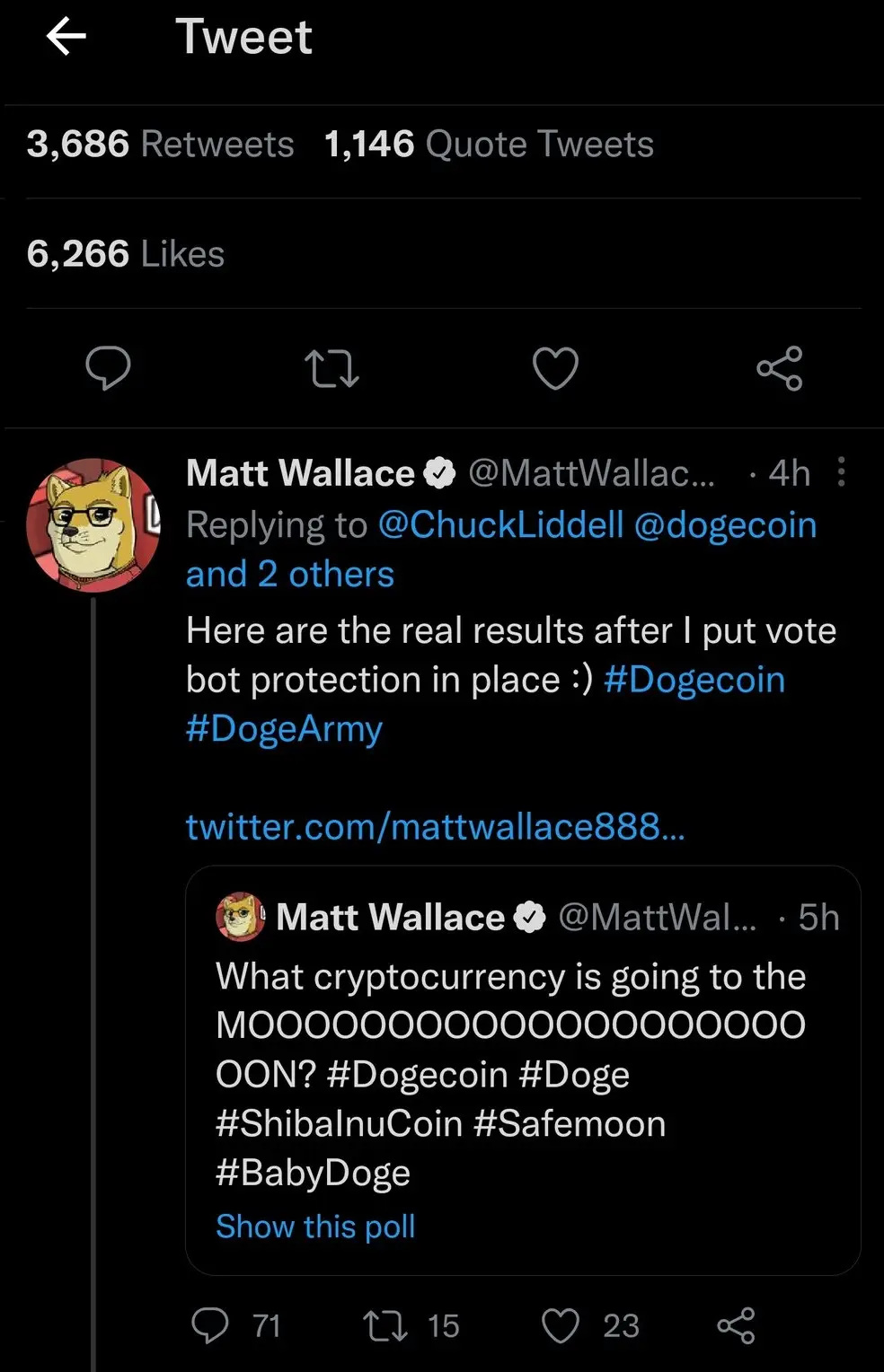 Matt has not been kind to the SafeMoon community and had always displayed offensive stances against it. He repeatedly lashed out at the DeFi token multiple times by calling it a scam.
During the SafeMoon Wallet delay, Matt poked fun at the devs saying they're capable of buying bots but not talent. "You can buy fake likes but you can't buy a good team or real plans," he tweeted in August 2021.
The Dogecoin influencer had also openly tweeted "Safemoon sucks" on August 3, 2021. It comes as a surprise that his own Twitter poll now shows SafeMoon winning.
Apart from Matt' Twitter poll, former UFC Light-Heavyweight champion Chuck Liddell also held his own poll simultaneously. SafeMoon took the top spot in Chuck's poll and defeated Dogecoin and Shiba Inu by a large margin.
Chuck confirmed that he would invest in all three cryptocurrencies and diversify his portfolio. However, he didn't reveal the amount he would invest.
Dogecoin or SafeMoon to the Moon?
Matt Wallace is an ardent Dogecoin influencer and repeatedly tweets on a daily basis "Doge to the moon". He has big plans for the meme-token are is working independently to make it succeed. He also has a sea of followers on Twitter reaching close to half a million people.
However, both the tokens are aiming for the moon but which one would get there first, only time will tell. Moreover, Dogecoin is listed on all top exchanges across the world but SafeMoon isn't. Also, Doge is endorsed by Tesla CEO Elon Musk and SafeMoon has no major celebrity backing.
At the time of publishing, SafeMoon was trading at $0.00278 and is down -3.66% in the days trade. Dogecoin was trading at $0.15 and dipped 6.81% in the 24-hours day trade.