SafeTits running as (TITS) in the crypto indices was built to run on the 'World Titty' economy. The token which was launched a few months ago came to a screeching halt and is unable to trade further.
The token was struggling to make in-roads in the crypto market and regularly displayed weak performance. Investors were put off with the drastic dip each day and no amount of shill got it back on track.
TITS which was touted be an adult-entertainer themed token, didn't see the light of a new day. The developers announced on their official Telegram handle that the coin will be pulled out and no longer available to trade. In addition, they apologized for the inconvenience caused and urged investors to sell all their holdings immediately.
The developers stated that the tax levied on sell would be 0% and the maximum tax will be only 5%. "We don't want to waste anyone's time and neither do we want to waste our own because it's tough watching every bit of effort in a year on a project to make it where it is sail away," read the final goodbye message on Telegram.
"We urge you guys to sell as soon as possible. During this time the tax will be set to 0% and the max tax will be 5% so people can sell," the developers said.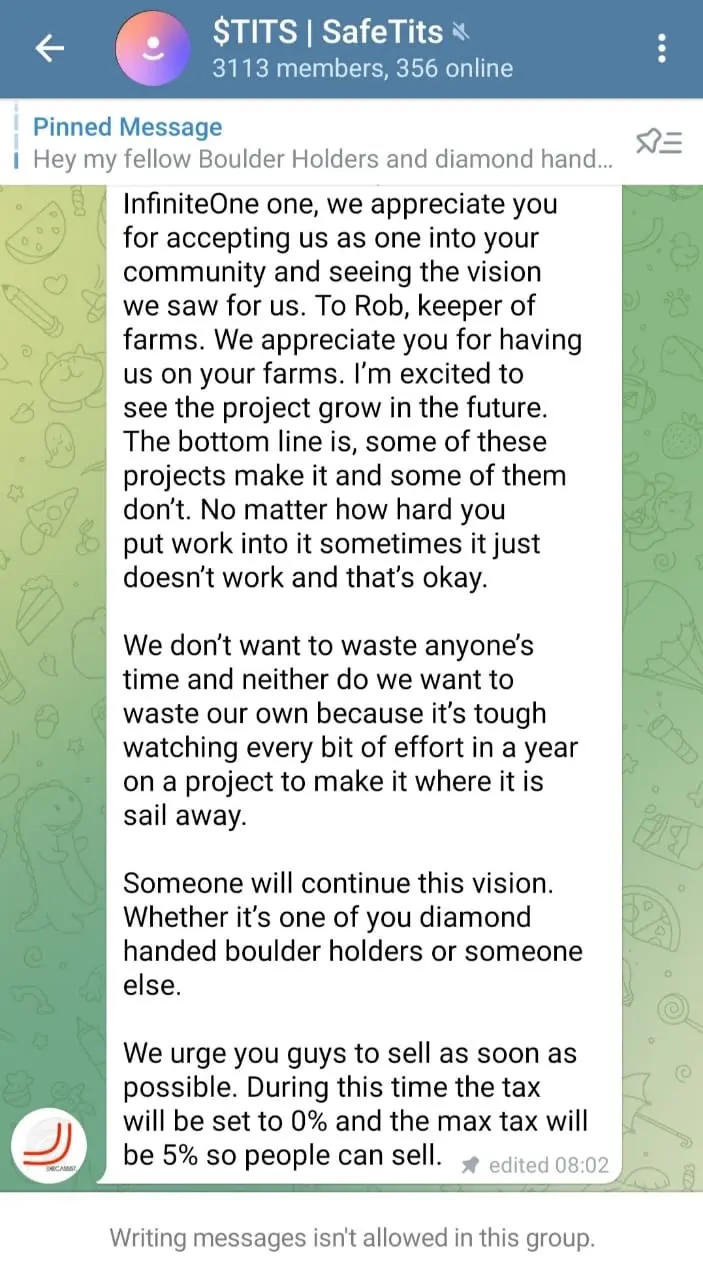 What Caused SafeTits To Close Down?
Non-performance, unprofessionalism and no scalability caused SafeTits (TITS) to close down its operations. The token had no future, no developments and no goals to look forward to. It merely ran on the topic of women's assets and nothing else.
A product with no future vision is bound to fail and SafeTits came under the axe of non-performance. In addition to its miseries, its name also came under severe scrutiny as it was not safe to go mainstream. The developer admitted during the final Telegram message that the name is also one of the reasons for it's failure.
"We have been fighting an uphill battle this entire time. No matter what good website we had or half decent white-paper or cool farm or swap. Nothing was every good enough just because of the stigma that follows "Safe" everywhere. We knew the consequences to it but we took it on as a challenge and it even surprised us that it got this far."
The developers have now blocked users from replying on their Telegram handle. Also, their website is now shut down and displays the message of "Site Currently Unavailable".