The Downfall of FTX is perhaps the most devastating the crypto world has ever seen, and its CEO is paying the price. Bloomberg's Billionaire Index is now reporting that Sam Bankman-Fried's once $16 billion net worth is now $0.
The entire fortune amassed by the former crypto mogul has deteriorated in just days. And the 30-year-old's assets are evaporating as a byproduct of FTX's collapse.
FTX is Valued at $1
The Bloomberg Billionaires Index has placed a value of FTX at just $1 following a potential trading halt. Subsequently, a January fundraising round valued the company at around $8 million. A decline that certainly impacted the young CEO, Bankman-Fried, who maintains 70% ownership of that platform.
Bloomberg also reported that Bankman-Fried's investment into Robinhood Markets Inc.- which was north of $500 million- is non-factorable due to reports it was held through Alameda Research. With controversy brewing in the FTX trading house, it has been revealed that $500 million will likely be held as collateral.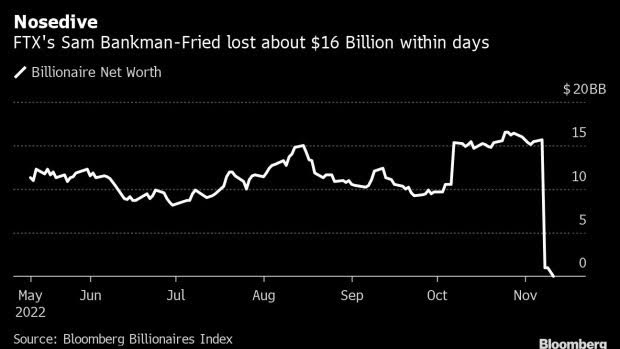 FTX has faced a liquidity crisis of as much as $8 billion following recent developments. Although the trading platforms seeking of a savior has yet to have been answered. One of their biggest competitors, Binance, was primed to acquire the platform before their due diligence.
Further investigation led Binance to back out of the deal, and now SBF is seeking over $9 billion to save FTX. There have been talks of a collective of investors including Justin Sun and OKX to help salvage the platform. Yet, there have been no official reports of a deal on the brink as of yet.