Broader market worries have depreciated The Sandbox's value by 17% in the last three days which has put the 200-SMA (green) into play. Should the price show signs of life at this MA and overcome some hurdles present on the higher time frame, a 26% hike was just around the corner. At the time of writing, SAND traded at $5.92, down by 5% over the last 24 hours.
The Sandbox 4-hour time frame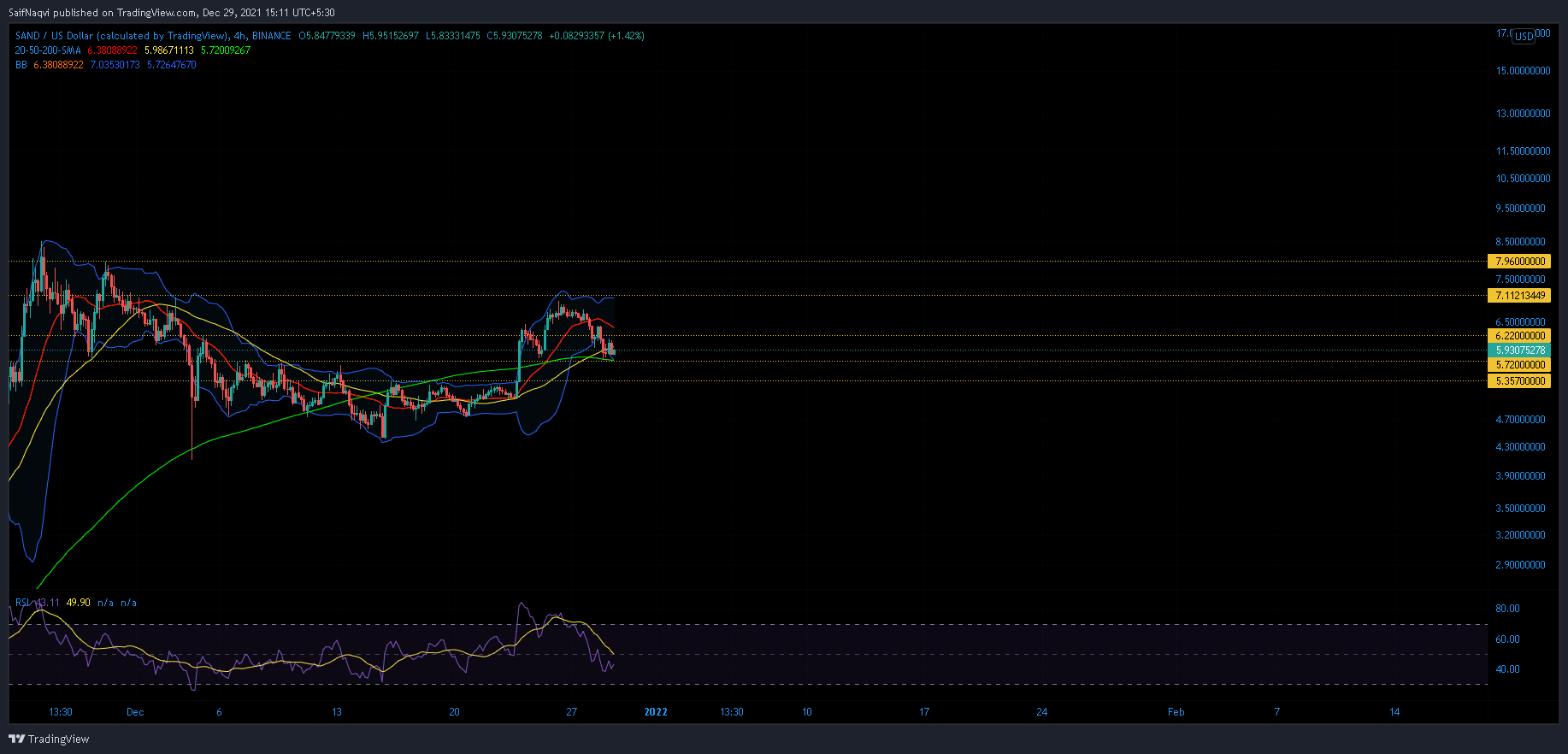 The 200-SMA (green) has been a key metric in the SAND market. Over the last few months, this MA has lent a massive helping hand to bulls by minimizing losses during several downtrends. Since SAND was trading close to this MA, bulls had a reliable platform to start buying once again. However, an immediate rally would not be sustainable as the broader market was yet to show signs of recovery. Bitcoin's move below $50K has thrown in a spanner in the works and support was yet to be found.
Hence, expect Sandbox to trade rangebound between its 20-SMA (red) and 200-SMA (green) until buying pressure is rediscovered. Once SAND closes above its 20-SMA, expect an 11% run-up to $7.11. From this point, consistent buy volumes would be needed to target 29 and 25 November swing highs of $7.96 and $8.53, respectively.
Over here, it's important to mention that Sandbox must overtake its 20-SMA (red) over the next few days. Failing to do so would lead to a bearish head and shoulders pattern and pave way for a minor sell-off.
Indicators
SAND's indicators suggested that the 'dip' was coming to an end. The price traded on the lower end of the Bollinger Bands and the discounted price level would invite new longs. The RSI was also nearing its oversold region and an extended decline was unlikely due to the 200-SMA (green).
Conclusion
SAND was expected to embark on a 22% run-up to $7.11 once the broader market recovers. Till then, the 200-SMA (green) and $5.72 support would cushion any minor declines. However, some worries would begin to emerge should SAND fail to close above its 20-SMA. Sellers could capitalize on a potential head and shoulders pattern and initiate a minor sell-off.