On April 12, 2022, Robinhood, the popular cryptocurrency exchange, listed Shiba Inu (SHIB) after a rigorous campaign led by the SHIB community. The listing was a significant milestone for the SHIB Army, who worked tirelessly to get the attention of the exchange.
Many expected Shiba Inu's (SHIB) price to increase, along with more adoption, as Robinhood is one of the most popular exchanges. However, things did not pan out as planned. Soon after the Robinhood listing, the crypto markets crashed following the collapse of the notorious Terra Luna project. The crypto market is still recovering from the losses incurred in 2022.
So what would be the ROI, if an investor had purchased $1000 worth of SHIB during the Robinhood listing? Let's find out.
Read More: Shiba Inu: 1-Year Since Robinhood Listed SHIB, Here's What Changed
How much is a $1000 investment in Shiba Inu during the Robinhood listing worth today?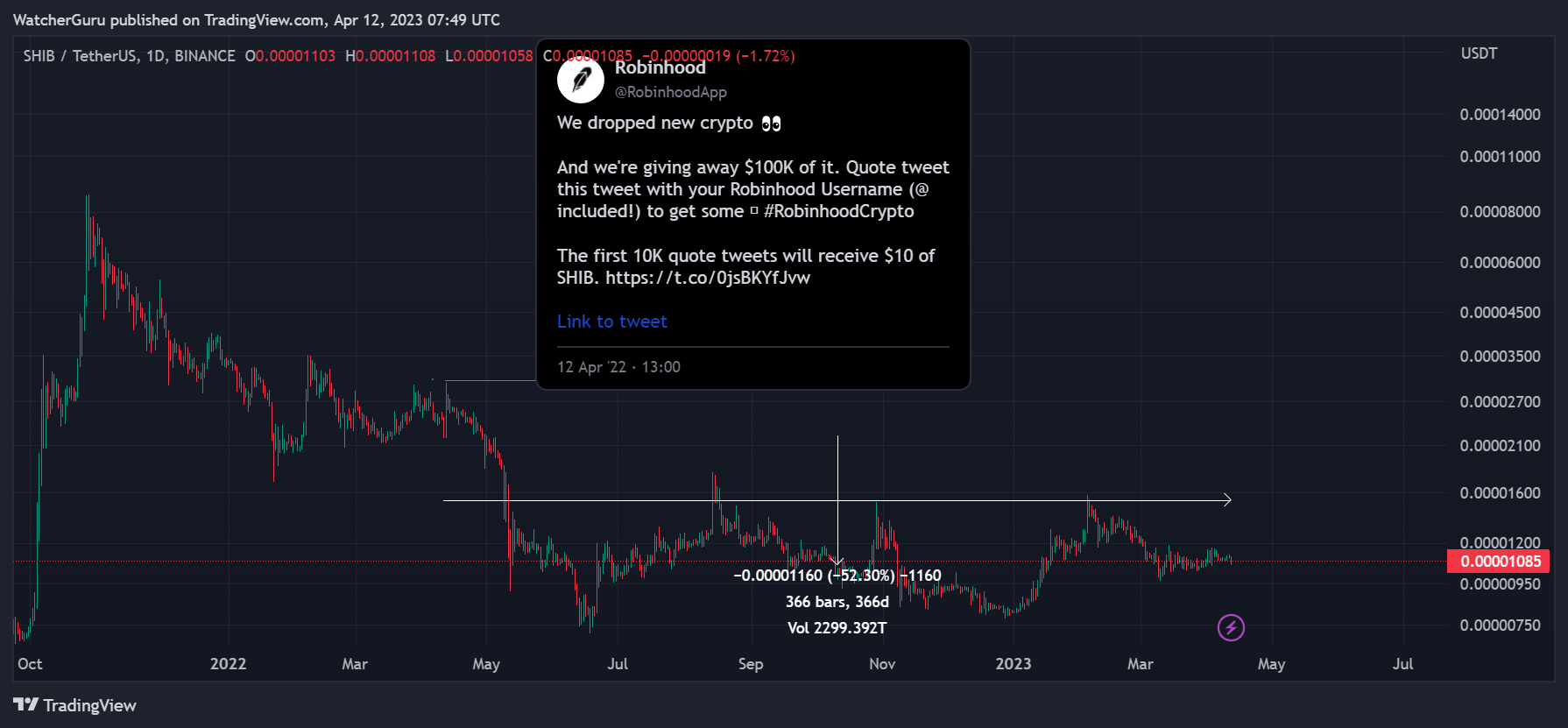 When Robinhood listed SHIB, the asset was trading at $0.00002211. Exactly a year later, SHIB is trading at $0.00001086. The price decrease represented a 52% drop. $1000 during the Robinhood listing would have got an investor around 45.2 million SHIB tokens. Those same tokens are worth around $491.1 today, a significant drawdown.
Although SHIB is one of the most popular cryptocurrency projects, the asset has lost a significant chunk of its value. Given the financial woes of 2022 and the industry still recovering from the repercussions, it is not surprising that the popular dog-themed crypto has failed to deliver results.
Nonetheless, the drop in value has not broken the confidence of SHIB fans and users. The community is still strong and pushing for more Shiba Inu (SHIB) adoption. Many expect the asset's price to pick up steam after the launch of its layer-2 network, Shibarium, and its metaverse initiative, SHIB-The Metaverse. Both projects will actively participate in burns, which is anticipated to further push SHIB's price.
At press time, Shiba Inu (SHIB) was trading at $0.00001086, down by 2.7% in the last 24 hours.