A recent survey conducted by ConsenSys pointed out that Americans believe that the financial system is working "well" currently. However, half of them feel that there is still room for improvement. In fact, they also agree that the country currently has the technology required to transform or rebuild the system. When it comes to digital assets, 98% of U.S. respondents have heard of crypto.
ConsenSys conducted 1018 interviews of people between 18 and 65 years old residing in the
U.S. and found out that nearly 1/3 of them had bought crypto assets in the past but sold them eventually. 20% of them currently own crypto, while 50% have never stepped into the trading or investing arena.

Also Read: Dogecoin Averages 1.3% on its 'Best' Trade Day: Here's Why
Shiba Inu Finds a Place in American Portfolios
The investors who had invested in crypto had a mix of several assets in their portfolios that included utility-centric coins, stablecoins, and memes. Let's delve into the list of the top-invested crypto assets to find out if Shiba Inu made the cut or not. Bitcoin, Ethereum, and Dogecoin were the top three crypto assets held by Americans. They had a weightage of 58%, 37%, and 26%, respectively. Binance's BNB and stablecoin's USDC were the next top-held assets.
Also Read: Shiba Inu Investor Misses 200,000x Returns on SHIB, Here's Why
Shiba Inu was the sixth most popular asset among American investors. 17% of them had diverted their funds into this $4.5 billion market-capped asset. In fact, SHIB was ahead on the list when compared to other larger, more valuable assets like Tether, Solana, Cardano, and Polkadot. Owing to the uncertainty in the landscape, the majority of respondents who had heard about crypto felt that this asset class needed to be "heavily regulated" to protect investors.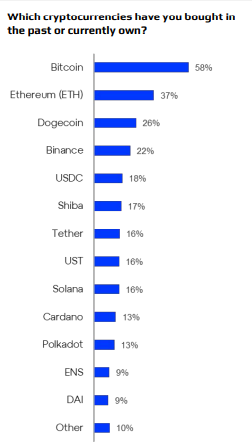 Also Read: Shiba Inu: SHIB to Hit $0.001 If Its Market Cap Touches $550 Billion?